An Alphabet of What God Is and Isn't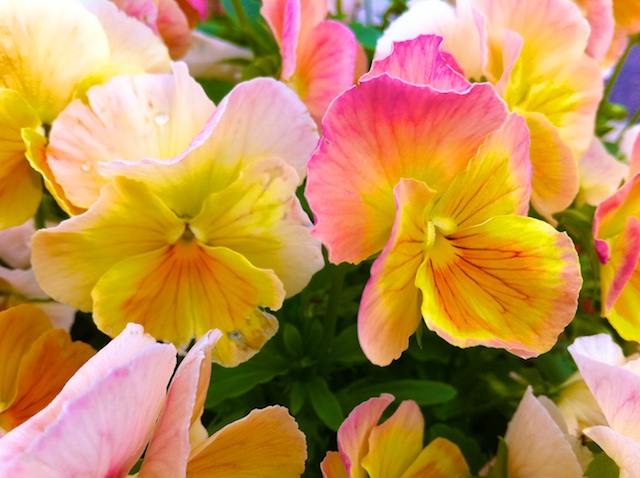 I have a list of more than 700 qualities and attributes of God, and as discussed in this newspaper article of mine, I find it useful as a reminder of what I love about God, and am counting on in God. But more importantly, I also utilize it in order to know and identify myself correctly as God's image and likeness. Studying this list reminds me to claim my own qualities and attributes that are derived directly from God.
More recently, however, I been realizing that a list of what God is NOT is also hugely helpful for the same reasons. So jotting down what God isn't, is new to my practice, and it is a list I'll be adding to going forward. It is just as important to reject what is untrue about ourselves as it is to embrace all the marvelous aspects of our being.
Meanwhile, I'm posting here some (alphabetized) highlights from those two lists. They are offered as a starter for you to work with and expand upon as well:
A:
God IS adorable, awesome, available, alive, admirable, accurate, accessible, auspicious, approving, absolute and all.
God IS NOT annoying, absent, atrocious, afraid, ambiguous, anthropomorphic, angry, or anachronistic.
B:
God IS beautiful, beneficent, balanced, boundless, brilliant, bodiless, blameless, bold, blessing, and benevolent.
God IS NOT boring, baffling, barren, boisterous, broken, biased, or blind.
C:
God IS creative, caring, cherishing, comforting, controlling, cognizant, continuous, conscientious, clear, constant, calm, complete, and creative.
God IS NOT critical, contaminated, crazy, corporeal, or capricious.
D:
God IS dependable, delightful, decisive, deep, deliberate, dazzling, diverse, distinct, discrete, devoted, demonstrative, designating, and divine.
God IS NOT dull, dangerous, depraved, disastrous, devastating, dishonest, daunted, doubtful, deaf, dying, or dead.
E:
God IS evident, excellent, ever-present, expansive, expressive, effective, encouraging, efficient, embracing, enormous, exalted, equipped, and eternal.
God IS NOT exasperated, enigmatic, empty, evil, erroneous, or emotional.
F:
God IS full, fair, flawless, fascinating, fastidious, functioning, felicitous, fast, friendly, faithful, and focused.
God IS NOT fictitious, false, futile, ferocious, flimsy, feeble, fickle, finite, frustrated, fragmented, or fallen.
G:
God IS good, gorgeous, guiding, guarding, governing, great, graceful, gracious, gallant, genuine, gargantuan, and generous.
God IS NOT grieving, gasping, gauche, gaudy, gendered, goofy, or gone.
H:
God IS helping, honoring, harmonious, healthy, heavenly, and holy.
God IS NOT hypocritical, heterosexual, harried, hassled, horrible, harassing, human, or helpless.
I:
God IS infinite, impersonal, incredible, invisible, incorporeal, inevitable, impartial, intelligence, immutable, inclusive, individual, immense, influential, infallible, illuminating, inexhaustible, informative, inseparable, intact, intense, inviting, and involved.
God IS NOT irascible, insensitive, irritating, impotent, irate, incompetent, insipid, insignificant, insecure, intoxicated, intimidating, inept, impaired, or inferior.
J:
God IS joyful and just.
God IS NOT jargon, jaundiced, jealous, judgemental, or joking.
K:
God IS kind, keen, and knowing.
God IS NOT a killjoy.
L:
God IS Love (loving, lovely, lovable), Life and liveliness, light and light-hearted, liberating, logical, law-abiding, lucid, leading, and lasting.
God IS NOT languishing, loquacious, lacking, limited, lazy, or lost.
M:
God IS Mind, marvelous, magnanimous, majestic, meek, multifaceted, multiplying, masterful, mighty, magnificent, merciful, manifesting, marginalized, meticulous, moving, and mild.
God IS NOT material, monotonous, malicious, maligning, monstrous, malfunctioning, malevolent, malignant, mocking, mistaken, or meaningless.
N:
God IS nurturing, near, natural, and noble.
God IS NOT noisy, narcissistic, negligible, nauseating, nervous, nagging, naive,  naughty, nit-picking, nasty, nationalistic, or non-existent.
O:
God IS omnipotent, omni-action, omniscience, orchestrating, original, observant, orderly, and outstanding,
God IS NOT ostracizing, oppressive, outlandish, outmaneuvered, outmatched, overactive, ostentatious, outlined, or ordinary.
P:
God IS Principle, powerful, pure, perfect, present, poised, precise, pragmatic, propelled, phenomenal, positive, protective,  perceptive, providing, preserving, peaceful, permanent, potent, practical, productive, prompt, prosperous, prudent, and purposeful.
God IS NOT pandering, paltry, petty, peevish, personal, painful, punishing, procrastinating, polluting, poor, or partial.
Q:
God IS quick and qualified.
God IS NOT quixotic, queer, quenchable, or questioning.
R:
God IS reasonable, resolved, righteous, responsive, rejoicing, resplendent, real, rational, responsible, rigorous, resolute, restful, rich, right, radiant, radical, and reliable.
God IS NOT religious, rebellious, ribald, rigid, risky, or ridiculous.
S:
God IS Spirit, Soul, substance, satisfied, supreme, salubrious, sincere, straightforward, sanctified, supportive, safe, sacred, and strong.
God IS NOT sensational, sorrowful, sore, scared, separate, sexual, sexy, sick, sinful, sarcastic, susceptible, slothful, sad, or sore.
T:
God IS Truth, terrific, tremendous, tenacious, tangible, and trustworthy.
God IS NOT timid, terrifying, tiny, tedious, trivial, or tormenting.
U:
God IS unchanging, undying, unconditional, understanding, universal, upright, unfolding, unselfish, ultimate, and unifying.
God IS NOT unimportant, unavailable, ugly, or unknown.
V:
God IS virtuous, valued, validating, victorious, vigorous, valid, and vast.
God IS NOT vexing, volatile, vindictive, or violent.
W:
God IS wonderful, wise, worthy, warm, and whole.
God IS NOT weird, wicked, wrathful, or woeful.
XYZ:
God IS: (help me here)
God IS NOT Xenophobic.
Any qualities and attributes you can add, tell us in the comments!
Consider sharing this list with someone you think will find it helpful.
You may also want to print it off for yourself to study or add to!