Vegan Pistachio Pesto (Recipe)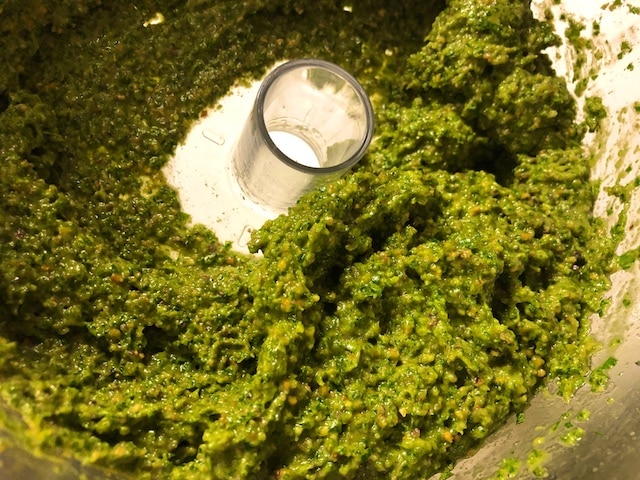 When basil is in season, I think it is a good idea to make and freeze a lot of good pesto.
I have just made four batches of this No Crumbs Left recipe for us to enjoy all winter. I freeze them in silicone muffin tins, and once frozen, remove them, and store in a ziplock container. This makes it easy to thaw just the right amount for using in increments throughout the year.
Most pestos have parmesan cheese, and I like this one because it is lighter, while still packed with all the flavor.
We usually use this pesto on veggie noodles, in stir fries, or on salmon burgers, but I imagine it would be great on lots of other things as well. Make this easy recipe and play around to see what you like it on best.
We get the shelled pistachios at Costco, and the basil and parsley from the farmer's market or our yard.
Note: you need a food processor for this recipe.
Vegan Pistachio Pesto Recipe
1 cup shelled raw pistachios
1 cup packed fresh basil leaves
1 cup packed fresh parsley
3 garlic cloves, pressed
3 Tablespoons fresh lemon juice
1 teaspoon kosher salt
1/2 teaspoon freshly ground black pepper
First pulse the pistachios in the food processor until chopped small. Add the basil, parsley, and garlic and pulse some more. Then add the oil, lemon juice, salt, and pepper, and process until well combined.
Enjoy!