Vegan Roasted Vegetable Soup (Recipe)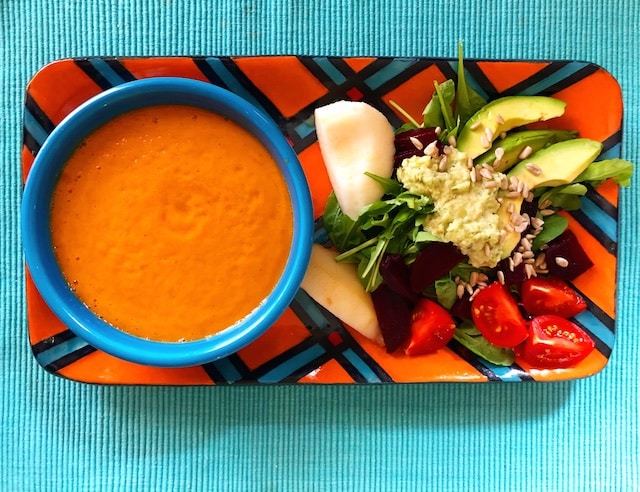 This soup was an experiment that came out fabulously. It is beautiful, easy, and most of all, incredibly delicious.
Vegan Roasted Vegetable Soup Recipe
1 small butternut squash, peeled, seeds removed, and chopped into chunks
4 red bell peppers, top and seeds removed, and sliced into strips
1 onion, peeled and chopped
2 Tablespoons avocado oil
sea salt and freshly ground pepper
2 Tablespoons fresh thyme leaves, removed from stems
1 thawed "puck" Roasted Tomato Sauce, (or substitute two tablespoons of tomato paste)
1 teaspoon hot sauce
3 cups vegetable broth
1/2 cup almond milk (or substitute other preferred milk or cream)
Preheat the oven to 400ºF while you prep the veggies as shown below.
Spread the veggies on a baking sheet, add the avocado oil, and mix well. Sprinkle the veggies with sea salt and freshly ground pepper, and roast them for 30 minutes, or until the squash is soft and the bell peppers are barely blistered.
Place the broth, almond milk, hot sauce, and thyme in a high speed blender. Add 1 teaspoon of sea salt, and 1/2 teaspoon of freshly ground pepper.
When the roasted veggies are done, add them to the blender and whirl until smooth.
Serve immediately.
Fabulous, eh?