Recipe: Breakfast Bake with Sweet Potato, Bacon, & Cheddar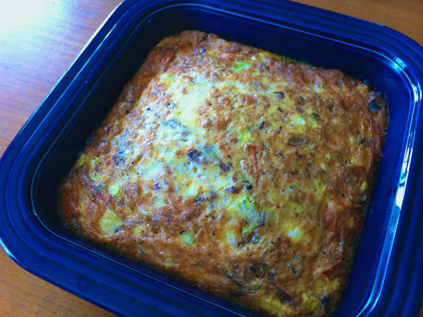 Our youngest loves this.  It is best fresh so make it when you have enough people around to polish it off right out of the oven. (You can keep it warm for about an hour in a turned off oven until serving time if you wish.)
Sweet Potato and Bacon and Cheese Bake
8 slices bacon
1 large sweet potato, peeled and diced
8 eggs
2 – 4 green onions, sliced
1 tablespoon fresh thyme, chopped
1 heaping cup of Cheddar cheese, grated
2 pinches of salt
lots of freshly ground pepper
4 garlic cloves, thinly sliced
butter for greasing the pan
Preheat you oven to 400˚F.
In a large, non-stick frying pan, cook the bacon until it is crisp, and then remove it to a folded paper towel with a slotted spoon, leaving the sizzling fat behind.
Gently ease the sweet potato bits into the sizzling bacon fat. Patiently fry them, stirring frequently, until they are cooked through and lightly browned (about 5 to 10 minutes.)
Meanwhile, whisk together the eggs, green onion, thyme and half the cheese. Season the mixture with salt and pepper.
When the sweet potatoes are brown, also remove them with a slotted spoon to drain on a folded paper towel.
Lower the heat and stir the garlic into the bacon fat, cooking for a few moments until fragrant. Remove the garlic from the pan also with a slotted spoon and add to the sweet potatoes.
Stir the crumbled bacon, the sweet potatoes, and the garlic into the egg mixture and pour into a greased 9" x 9" pan.  Sprinkle the top with the remaining cheese. (The first photo below shows what it looks like going into the oven.)
Bake until fully firm (not giggly in the middle and a bit puffy), about 20 minutes.
Enjoy hot out of the oven!