Our Youngest Chooses to Go to Juniata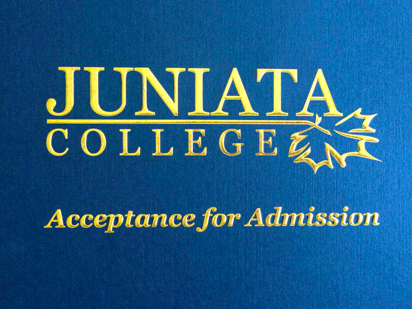 Our youngest has chosen to go to Juniata college in south central Pennsylvania, and has sent in her deposit to reserve her place in their class of 2019. She has been attracted to this small, rural, "sciency" liberal arts school all along and it feels like a great fit. Last week she returned for an overnight and to visit classes, which sealed this decision in her mind.
About seven years ago, when our oldest daughter was looking at colleges, she read the book Colleges that Change Lives, and said to me that she thought she found a great college for our youngest. It was Juniata. Fast forward to early 2011 when I read that same book because our son was starting the college selection process. I concurred with our eldest; I too thought I had found a good match for our youngest: Juniata. So this college was always hovering on her list together with others, but now we feel downright prophetic!
We visited the first time as the last stop on our college tour a year ago. You can read here our impressions from that visit. On the whole five hour drive home our daughter kept sighing followed by the exclamation, "I really like that place!" What stayed with her the most was her outstanding hour-long interview that was more like a fascinating conversation, the Nobel Prize displayed in the Physics hall, the edible food, and the personalized, student-centered approach.
Since that interview, it felt like they had her flagged as one they wanted; they have courted her with phone calls and mail from both admissions people and students. She never felt like a faceless application number there like she did at most other places. When the time came, they not only accepted her, but enticed her with very generous merit scholarship money.
So we returned last week to check it out in more detail. She went for an overnight, and was given an itemized itinerary for her visit. She was initially met at drop off by the head of the Ceramics club, because they knew our daughter loved to work in clay and wanted her to see their ceramics studio. She was then taken to dinner and introduced to her host who was a girl in the Physics department. Unlikely as it was, the Physics Phun night they hold yearly was that evening, so our daughter got to see the Physics students in action, and hang out with them as a whole over ice cream made with liquid nitrogen.
The next day she went to two classes, and escorts were coordinated to take her to each one. She was assigned a lunch buddy with interests similar to her own, and then met with the head of the Physics department who took 45 minutes with her, showing her both their cool equipment, and the labs sophomores are eligible for, where they can do independent research. By the time she met with the admissions counselor, she was down to asking about how her 4 college classes that she has taken during high school would transfer.
Our daughter felt all the kids were great–which is not something I often hear from her– and the way the visit was planned, she had gotten to meet with a lot of them. It is a wholesome place started by a "peace church," the Church of the Brethren, which is an offshoot of the Mennonites. It is an academic place populated by normal kids that want to focus on learning something; it doesn't go in for much partying, and isn't peopled by a bunch of rebellious teens. Even though it has 1,500 students, it is a close knit community, with 65% of the campus some sort of science major.
Our daughter met people there that have done three study abroad programs, which is still possible while pursuing a rigorous science program. This is intriguing to her; she is tempted by learning science in the Galapagos and ceramics in Japan. In this way the college compensates for their remoteness (I had to drive an hour to a motel) and their relative lack of diversity (they have 20% international kids but 62% are from Pennsylvania). Also, I visited the Reading Room in State College near where I stayed, and they would be willing to drive our daughter to and from Sunday School there if she wished.
Our daughter felt "cared for" at this school, which hasn't lost the focus that they exist for the students. It is ranked high academically, but just as important, it is also ranked among the highest in the nation for colleges where students are "the happiest."
Here our daughter can study science without giving up her music and art, plus she hasn't closed the door on engineering. They offer a 3/2 program where she could finish with both a liberal arts degree (BS) and an engineering degree (BE), by doing her last two years at either Washington University in St. Louis, or at Columbia, in NYC, which are both good schools.
This place seems to be a perfect transition spot for our never-been-schooled youngest, and I am so grateful both for the clarity and calm this decision carries with it. Thank you God!
It is all coming quickly with orientation only two months away!