Our Daughter Climbs Mount Katahdin (Her Photos)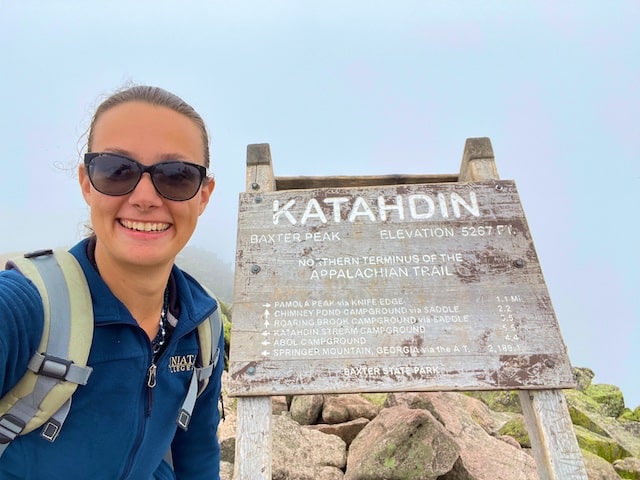 Our younger daughter has been wanting to climb Mount Katahdin for some time. The last mountain she climbed was two years ago on our trip to Newfoundland. She's also done a few "14ers" in Colorado. The Mount Katahdin trail is not as far as some of those Colorado hikes, but at least a mile vertical of Katahdin is heaving yourself up one chest high boulder after another. The "trail" is just a white painted mark on a rock, as you can see in the photos.
She climbed the Hunt Trail which is not the easiest route, but is the one that is the northern terminus of the Appalachian Trail. She went by herself, which is not ideal, but we knew it was well traveled. Neither of us had any service if she got in a bind, so we would not be in contact. I trusted her wisdom and her divine help, and both came in handy.
When she got to a place she didn't know how to navigate (that metal bar in the photos she needed to hoist herself up) along came an immigration lawyer from our home state with her hired guide, who showed our daughter what to do. In another instance our daughter got to be the heaven-sent angel for someone else, when she shared her over abundant food with a couple who forgot theirs.
The only problem was it was foggy at the top, and hiking almost the whole time in a cloud, she didn't see the amazing view. There was apparently only a few moments when the cloud parted on the way back down, where she quickly got some of the photos you see here, particularly the panoramas. However, she was not distraught by this, feeling that the still buffer of the cloud was much better than scorching sun or the high winds that often accompany such a climb.
She hiked in and out directly from our campsite, which was very near the trail head. She was gone 11 hours, 6am to 5 pm. She took a couple hours on top, sketching, resting, and socializing. She said it was much quicker coming down, and she arrived before she told me to expect her at 7 pm. She came back exhausted, and we warmed up a foot bath for her in our dishpan.
Enjoy these photos of her adventure that she is allowing me to share!