Recipe: Smoky Black Bean and Rice Stoup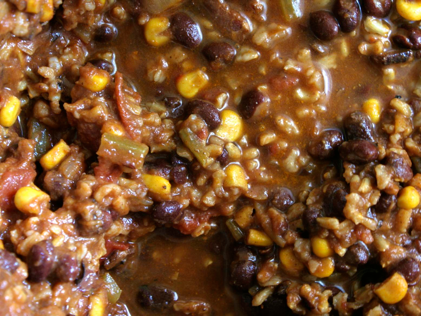 In a recent Rachael Ray cookbook called Book of Ten, she gives her top ten recipes in different categories. This is one of her favorites that she serves her own family. I can see why. Its ingredients are inexpensive and it is quick and easy to make. All that, and it is delicious and nutritious too! This is also great to have on hand during a busy week to just reheat and serve. Here is her recipe slightly adjusted by me:
Black Bean Stoup with Rice
2 tablespoons extra virgin olive oil
3 bacon slices, chopped
1 bay leaf
2 celery ribs
1 medium onion
4 garlic cloves
1 cup frozen corn kernels
2 15oz cans of black beans
1 tablespoon ground coriander
1 tablespoon chili powder
1.5 teaspoons ground cumin
1 tablespoon Worcestershire sauce
0 – 2 tsp hot sauce (to taste)
coarse salt & coarse pepper
1 28oz can diced fire-roasted tomatoes (I used Muir Glen brand)
1 8z can tomato sauce
1 quart chicken or vegetable stock
1 cup brown rice
In medium soup pot over medium heat put the olive oil and chopped bacon and cook for 4 minutes to render fat.
Add bay leaf, celery, onions, and garlic and cook for 4 minutes to soften veggies.
Add the corn and 1 can of black beans with their juice. Drain the other can, then add half the can of beans. Mash the remaining beans with a fork to make a paste out of them, then scrape them into the pot. (This makes this soup a thick "stoup.")
Season the veggies and beans with coriander, chili, ground cumin, Worcestershire sauce and maybe hot sauce. Season with salt and pepper to taste.
Stir in the tomatoes, tomato sauce, and stock, then cover and bring the pot to a boil.
Add the rice and cook over a rolling simmer for half hour or until rice is tender but not mushy.
Enjoy!