Getting Ready and on Our Way to College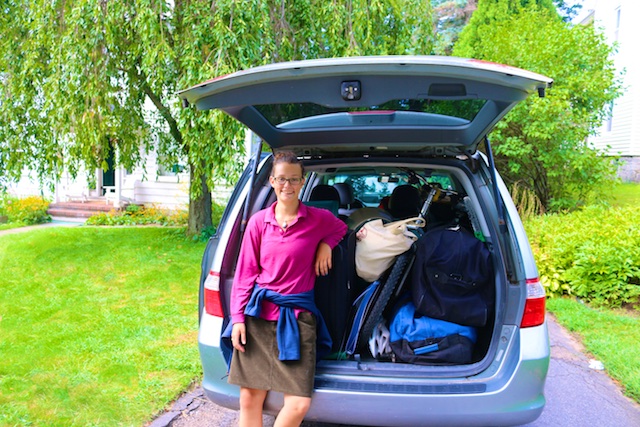 We've been scrambling around running errands to get our daughter set to go off to college. She did a Target run, bought a new apple laptop with a protective black case, and got her first debit card. At the very last minute she wrote her graduation thank you notes on postcards from our trip.
With precious little time between our trip and leaving for school, we've been making her favorite foods: Chachouka made with our homegrown peppers and tomatoes, and Peach Galette made with our own peaches.
Our daughter did all her packing without either parent looking over her shoulder at all. In the photo, you can see a pile of her linens ready to go. Yes, she's taking the large sea turtle.
Since she is to move into the dorm at 8 am, we are driving there in the evening and staying over close by. She stalled a bit leaving our house, and after we were in the van to go, she went back in the house by herself to look at it one last time, coming out a bit choked up. Such a poignant moment!
Driving west across Pennsylvania, we were treated to a stunning sunset…