Broken Open (Book Review)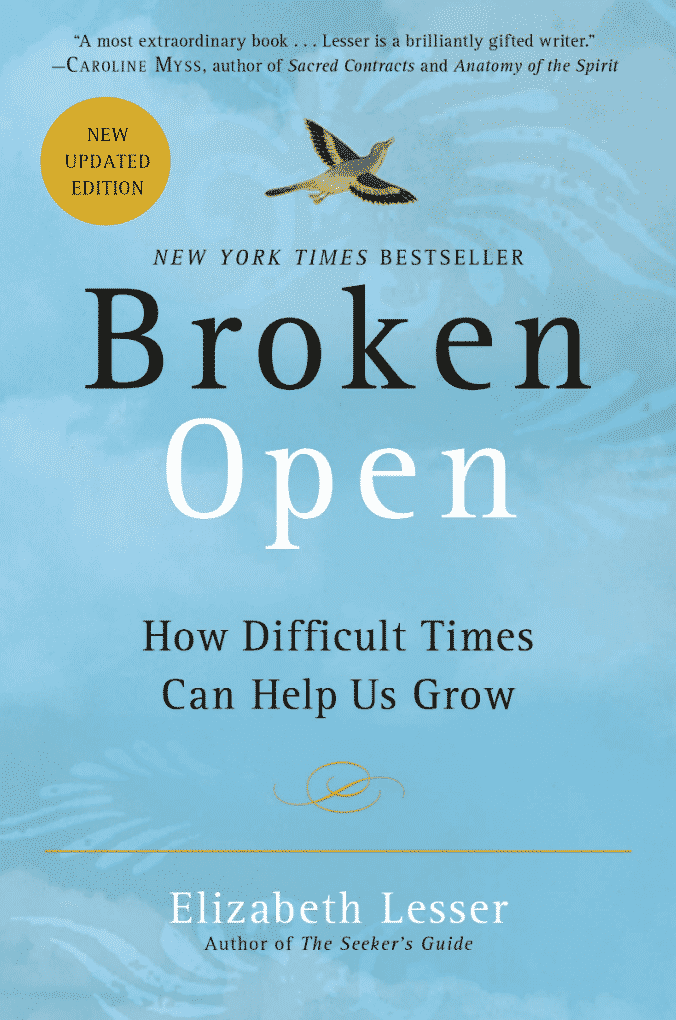 Will we be broken down and defeated, or broken open and transformed? That is the essential question of this book. It was meant individually, but is an idea that is starting to look relevant nationally here too.
This was written in 2004 by the co-founder of the Omega Institute, an internationally known center for holistic healing, personal development, and spiritual growth. In this book she shares from her own story as well as those of people in her workshops over the years. It reads a bit like a memoir by a self-help workshop leader, with some great quotes mixed in.
Here are some bits from the book to give you a flavor:
Anais Nin: "And the time when the risk to remain tight in a bud was more painful than the risk it took to blossom."
"How strange that the nature of life is change, yet the nature of human beings is to resist change."
What does my soul want to learn?
"Only people who love themselves can love others; only people who claim their own voice can hear the true song of another."
Life here on Earth cannot be sanitized, rationalized, or tranquilized into a rigid vision of the way it is supposed to be.
"The way of the heart –that inner instinct that draws us creatively into the chaos of life– is, ironically, also the way out of confusion, anxiety , and suffering."
Suzuki says to approach whatever you've been doing even for twenty-five years with "beginner's mind." "In the beginner's mind there are many possibilities, in the expert's mind, there are few."
"The point where science and religion meet could be called the soul."
"The soul tells you to root around in the dark stuff for the deeper questions, and to let those questions lead you from darkness to the light."
Joseph Campbell: "People say that what we're all seeking is a meaning for life. I don't think that's what we are really seeking. I think that what we are seeking is an experience of being alive… so that we can feel the rapture of being alive."
Ram Dass: "The ego… is like this wheelchair. It's a beautiful wheelchair. Use it. Enjoy it! Just don't think it is you. Don't take yourself so personally."
"I was painfully aware of the meagerness of my perception of most people: how little of their souls I normally allow to touch my own; how quickly I judge, and therefore diminish, their humanity."
"I felt the hand of God changing the way I thought about everything; as if God was a waitress, late at night, in the dim light of the bar, and I was a wineglass she was drying, holding me by the stem of my heart, turning me around and around, cleansing the film from the lens of my vision, so that one day I might see the world as she does."
"If we do not suffer a loss all the way to the end, it will wait for us. It won't dissipate and disappear. Rather, it will fester, and we will experience its sorrow later, in stranger forms."
"We continued our busy lives, as if we were the bread and the rest of life was the center of the sandwich. As we added more and more filling, we grew further and further apart."
"Jung said that people tend to become what they ignore or oppose." (So transform and redeem evil instead.)
"If you would like to be broken open–if you want to pursue a phoenix process of the highest order– I would recommend raising children."
"Parenting is a never-ending journey down a wide river of worry and love. You get in that boat with your kids and you never get out. They get out–they build their own boats and row into their own destinies– but you stay in the original boat, always their parent, forever caring…"
"Normal is someone you don't know very well."
Carl Jung: "Nothing has a more disturbing influence psychologically on children than the unlived life of the parent."
The author of Broken Open tries to get us to face and know our soul, deal with our baggage, and do the hard work to self actualize. She says that our suffering can serve us in becoming who were were meant to be.
Even though my work is to get people to make the kind of choices that reduce suffering, sometimes suffering is unavoidable. Then it must be confronted, processed, and overcome. At one time or another, each of us needs to arise from the ashes we might find ourselves in. That's where this book comes in.
Even though the author's background includes psychics, communes, and infidelity, what she says makes a lot of sense. This book could be exactly what someone going through "a dark night of the soul" needs to hear. I give this book four stars.