Maple Mustard Cabbage (Recipe)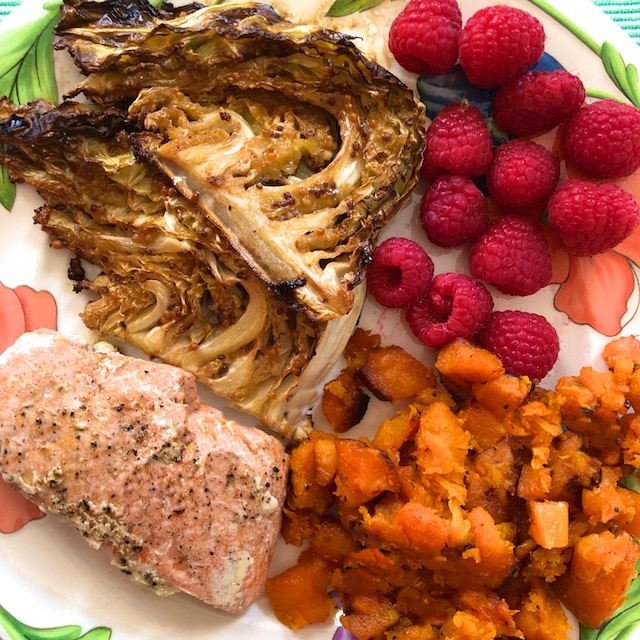 This recipe is as easy as it is delicious. It is not so beautiful on the plate, for you want it brown enough to be both a bit caramelized and crispy, but pair it with something else (like the raspberries above) to make your plate prettier. This is a very welcome vegetable side dish, both for the maker and the eaters, let alone the pocketbook.
Maple Mustard Cabbage Recipe
4 Tablespoons olive oil
2 Tablespoons grainy mustard
3 teaspoons real maple syrup
1/2 large head of cabbage (we used Savoy)
sea salt and freshly ground pepper
Preheat oven to 400ºF
In a small bowl, whisk together the olive oil, maple syrup, and whole grain mustard.
Cut the  cabbage half in six wedges, leaving a bit of the core to hold the piece together.
Lay the wedges on parchment placed on a baking sheet. Brush the sides facing up with 1/2 the olive oil mixture. Season with salt and pepper.
Roast for 20 minutes.
Remove the wedges from the oven, and carefully flip them, keeping them intact. Brush the other side with the other 1/2 of the olive oil mixture.
Roast for another 20 minutes until quite brown and crispy at the edges.
Serve immediately.