On the Basis of Sex (Movie Review)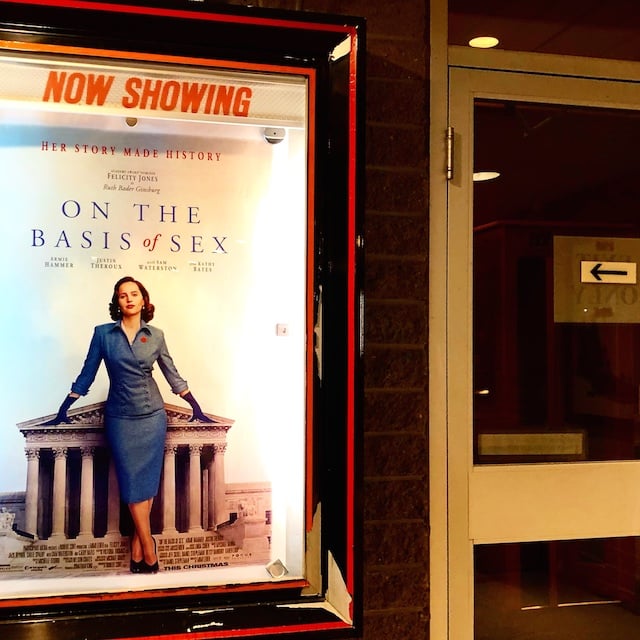 I loved this movie of Ruth Bader Ginsburg's first case, which was a landmark case overturning gender discrimination. Interestingly enough, it was about a single man, who was not allowed to get a tax credit as a caregiver for his mother because that was only offered to women.
The movie starts much before that, however, when RGB was a young mother, starting at Harvard law school, surrounded by men. (I can relate to those scenes, since there were 3 women in 5000 when I went to engineering school.)
RGB has a history of showing true grit. It is wonderful to see in this movie, as well as in the current news. Thank God she is still out there fighting for us!
When I read her book a couple years ago, I was struck with her wonderful relationship with her husband, and this came out in the movie too. Played by Armie Hammer (a dreamboat!) her husband was endlessly supportive of her, and it is such a beautiful thing to see. We need more male role models comfortable enough in their own skin to encourage women to be the best they can be. I also loved seeing RGB's relationship with her daughter; RGB challenged her daughter and her daughter inspired her mom.
Anyway, this movie is a drama about a young Ruth Bader Ginsberg courageously taking on the patriarchy and not only winning, but inspiring them (and us in the process). She made them see that it was time to change and they could make history in an important way.
I give this feel good film 5 stars. Go see it and bring on equality. The fight is not over.