Last Kid's Forum as We Know It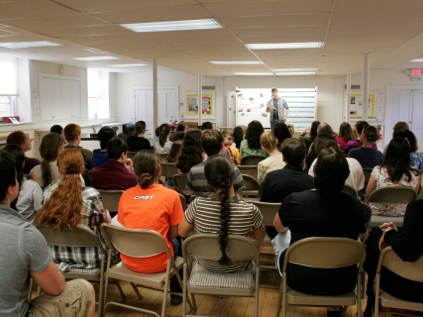 Our homeschooling group has held a Kid's Forum presentation group every month of the school year for the last twelve years that we have routinely participated in, as we have been an active part of this group since the beginning. 
The most recent eleven years we've met at a church hall a block from my home, but as of next year we will need to find another spot as their new board now wishes to charge us as well as require a certificate of insurance, neither of which were required in the past.  I imagine the Forum will resume next year in another location, but this spot that my kids have given many dozens of speeches in for the last eleven years will no longer be in our lives.  It feels like the end of an era.
Today we honored three homeschooling graduates, one going on to Amherst College, one with a full (tuition & room & board) merit scholarship to Loyola Mary Mount University, and the other one is off to Notre Dame.  Not too shabby, eh?
After the usual presentations from current homeschoolers (like our youngest), our returning college students (my two oldest kids and their friend Elizabeth) took questions from the audience, and then the new graduates did the same before a celebration of pizza and cake.
The mother whose son got the full scholarship told the audience today (see photo below) the story about how nine months ago she was literally sobbing on my shoulder about not being able to afford college, and I reassured her, saying that she had been investing all this time in her kid and that would definitely pay off.  Here she was today testifying to the truth of my conviction!
This has been a wonderfully supportive community and I have given it a lot of my time and solidarity building it up to this point.  Yes, homeschoolers have a vibrant (if underground) community, and the photos below give you an inside glimpse.