Tattoos on the Heart (Book Review)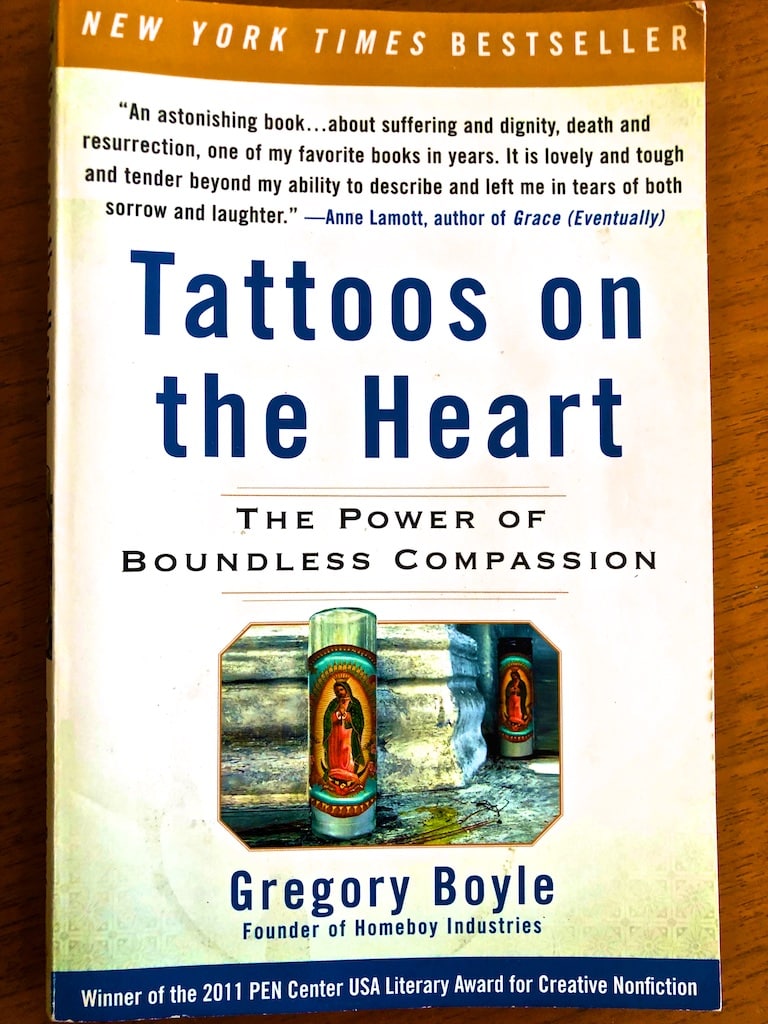 Our book group read Tattoos on the Heart this month and discussed it last night. We all loved it and I give it five stars.
This book is written by a Jesuit priest who has a ministry among the competing gangs in a ghetto of Los Angeles. He gives them jobs, removes tattoos, and buries them young because of rival gunfire. The writing is both heartwarming, tear inducing, sad, inspiring, and laugh out loud funny.
He lives with such unconditional love, such grace, such vulnerability, such compassion, and such down to earth humanity, that we love and admire him as much as the homeboys do. It gives us a window on how to better help by being among and with those we serve, instead of swooping in with all good intentions as an outsider.
Here are some bits from the book to give you its flavor:
"Author and psychiatrist James Gilligan writes that the self cannot survive without love, and the self, starved of love, dies. The absence of self-love is shame, 'just as cold is the absence of warmth.'"
"It's my first day of teaching, I say to her, 'Give me some advice.' She doesn't turn from her paper but holds out her right hand, displaying two fingers. 'Two things,' she says,'One: know all their names by tomorrow. Two: It is more important that they know you than they know what you what you know.' Good advice. I followed it and I think it served me in good stead.
"Sooner or later, we discover that kindness is the only strength there is."
"The poet Rumi writes, 'Close both eyes to see with the other eye.'"
"Bridging the gulf of mutual judgement and replacing it with kinship is tricky indeed."
"'How do you work with the poor?' She answered, "You don't. You share your life with the poor.' Its as basic as crying together. It is about 'casting your lot' before it ever becomes about 'changing their lot.'"
"If our primary concern is results, we will choose to work only with those who give us good ones."
We are going to hear this author speak on Saturday evening which we are looking forward to.
In the meantime, I recommend reading this book of one man's outstanding work among our nation's most disadvantaged.