Overstory (Book Review)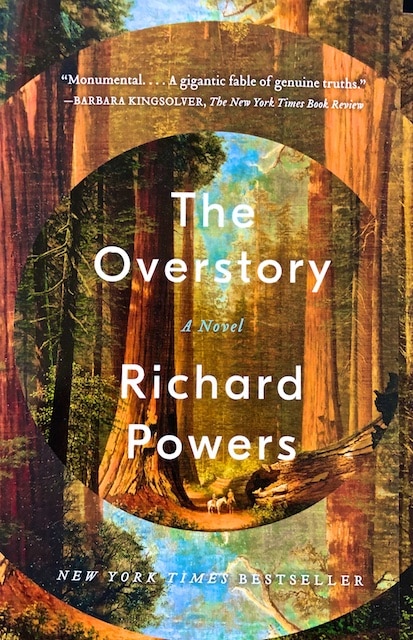 This book is a tour de force. Winning the 2019 Pulitzer Prize for fiction, it raises the bar for future attempts for that honor. This is an important, urgent, epic book, and at 502 pages, it is a project to read. The writing is stunning, impressive, poetic, and filled with detailed facts. The story is vastly pertinent, and so very needed to avert our looming and collective eco-suicide.
At first, Overstory reads like a great short story collection, each one featuring a tree. Then those "roots" (characters) come together in the book's "trunk," only to branch out further on, in it's "crown," and finally scattering "seeds," which hopefully germinate in the minds of the readers. So even the plot structure is shaped like a tree.
The story includes also the branching metaphors of computer programming, which is the base of Artificial Intelligence, as well as that of gaming. How do you change the game so it is not whoever accumulates the most wins? Is that the only way to play? There is activism here that clarifies what is stacked against us when we want to protect the natural world that sustains us, as well as the cost of taking a stand (pun intended). The recent research on the communication of trees also comes to bear, as does our insatiable over-consumption, and the need to change our epoch of outward growth into a more sensitive, inward growth, instead.
Reading this work of art is a bit of a daunting undertaking, but an easy step compared to fixing the wrongs highlighted so effectively in its pages. This masterful story-teller has shown us both what we've lost, and what the future looks like. Can we please wake up and make some intelligent choices?
"The planet's lungs will be ripped out. And the law will let this happen, because harm was never imminent enough. Imminent, at the speed of people, is too late. The law must judge imminent at the speed of trees."…
"…when you cut down a tree, what you make from it should be at least as miraculous as what you cut down."
Maybe if more people read this we can start the conversation with each other and listen better to what Nature is saying. The blinders need to come off; solutions are needed right here on our watch. If you care about the environment, sustainability, nature, trees, or wilderness, read this novel. I give this passionate, emotional book an emphatically high 5 stars. If you read it, let me know what you think!