Pottery Plates I Made My Husband for Christmas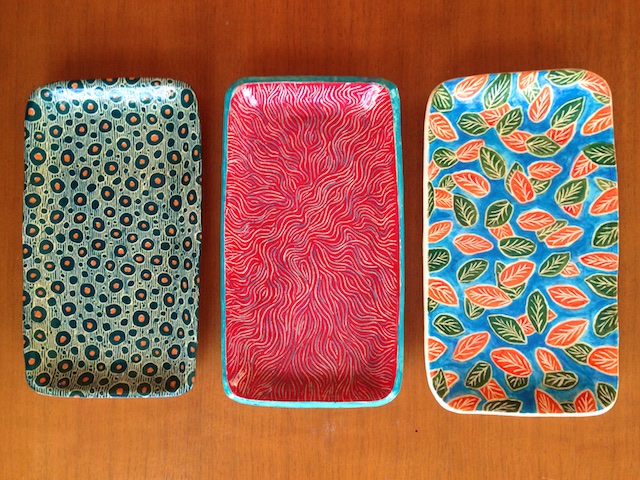 Here are the oblong pottery plates I made my husband for Christmas. This shape we find particularly useful. I made him two for Christmas in 2013, and we have used them so much, that I thought it would be great to expand the collection.
Originally made for soup and a half sandwich, my husband has come to like to use them for his smorgasbord of a breakfast as well.  So with three more, he can now do that and have some in the dishwasher, while I can still have some available for lunch. Or, all of our immediate family can each have lunch on one when we are together, like we'll do today.
Our son thought I should start an etsy shop to sell these to "hipsters." I'm not sure who hipsters are, but I do enjoy carving the clay for these rather imperfectly shaped dishes, and have no end of ideas for finishes to them. Unlike our daughter's ceramics, where she focuses on form, my interest lies more with surface design, and these oblong plates are a perfect blank slate to experiment on. I had fun making these and am so glad they came out.
All three were carved and glazed while still wet with a technique called sgraffito before they were fired.