Christmas Photos 2016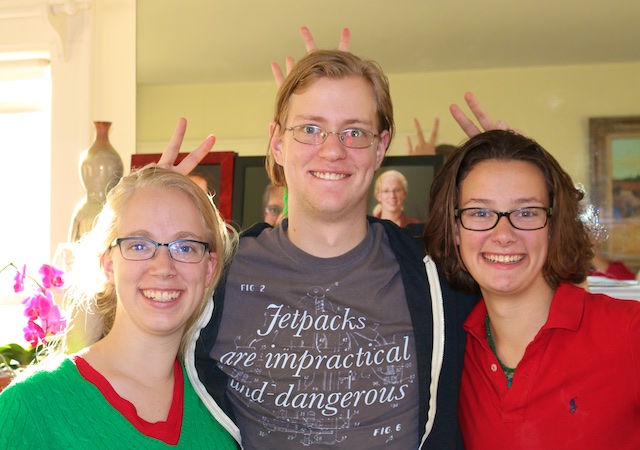 Merry Christmas! It is so good to have all of our kids home for Christmas!
I hope you are having fun and feeling the love and delight of the season.
The photos in this post span yesterday and today. There has been lots of food, chocolate, presents, reading, and game playing. On offer has been almond croissants, broiled feta and hot pepper appetizer, garlic Boursin cheese on crackers with sweet and spicy corn salsa,  tomato tart, tuna steaks with lemon herb butter, honey baked ham, parmesan chicken, mashed potatoes, Harry and David pears (thanks to Aunt Clara), baked onions, roasted tri-color carrots, salad, cranberry walnut bread, toffee, truffles, peppermint bark, pumpkin pie, Hungarian cookies, eggnog, cider, and Martinelli's. Our family needs the food, presents, and games, or otherwise we'd all retreat into reading, and that is not very social is it?
Our oldest is here from California, where she is a fiscal and policy analyst for the California State Legislature. She had a wonderful three week trip this fall to Iceland, France, and Germany; we have enjoyed hearing about it, and hope to see her slide show of photos soon! She got the bright orange card case for me for Christmas, right near the Louve, and I love also the hot pink water bottle she gave me!
Our son, who graduated from college last spring, has gotten "the job of his dreams" writing software and algorithms to analyze big data for the purpose of public policy, both domestically and internationally. He has moved to D.C., and has a nice house there that he shares with two friends. He hasn't been home since last Christmas, so it is especially good to have him here.
Our youngest you've heard about most recently with her ceramic endeavors. Below you can see the clay pieces she made my husband and me for Christmas. We've also been delighting in her piano music filling the house, which has been so very missed!
Christmas falling on a Sunday, we were in church as well, so you can see some of our church friends in this post. My Sunday school student (Kyra) got a car for Christmas! Wow.
My sisters both gave me great presents. One sorted through tons of my dad's slides and scanned them in, compiling and organizing them. We are so grateful for her taking on this huge project! Now we can see photos from my earliest birthday parties and favorite childhood trips! This will inspire the sharing of many memories, which our oldest daughter will most appreciate.
My other sister gave me some things off my wishlist: an enamel watercolor pallate, Sharpie paint pens, a book about collage, and a set of Intense water soluble ink pencils that I first tried last fall at Creative Arts Camp. She gave James the intriguing Hari Hari garden knife in the photo.
James made me the lovely tissue box holder (for the living room) shown below and some art materials too. Tomorrow I'll show you what I made for him…
Amidst all this festivity, let's take some time to remember the reason for the season. The coming of the Christ is certainly important and needed– and thanks be to God is here, now, bringing us together in peace and harmony. I, for one, am grateful.