Book Review: Unbroken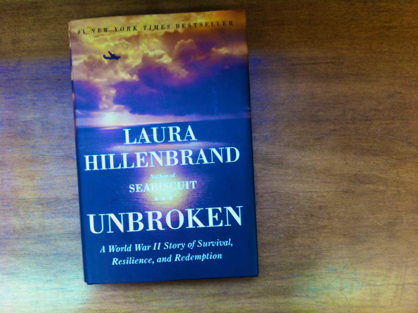 Wow, this book was a tour de force! Even though it was excruciating to read, I give it five stars.
While reading this, you want to think it is fiction, because it is difficult to believe the human psyche can endure so much hardship. But this is actually a true story, not a fabricated one surrounded by a collage of facts. It is amazing and heart-breaking at the same time.
The book's subtitle is: "A World War II Story of Survival, Resilience and Redemption," and this sums it up rather well. I don't want to share any spoilers here, but I think it is safe to mention that most of my World War II knowledge before this read was focused in Europe, and this takes place in the Pacific theater of the war.
I was put up to reading this by my writing teacher at Creative Arts Camp last fall. The writing is exemplary. The first pages brilliantly set the stage. Fact reads like fiction, and characters come alive in an unselfconscious way. It lives up to the classic advice of "show don't tell" by painting a picture so clearly we feel we are there.
This is an extremely intense book. When you're done with it you'll be glad you read it but during reading it you will be afraid, demoralized, angry, exhausted, upset, frustrated, defeated, concerned, and more than anything, incredulous.