Heroines of Abstract Expressionism Show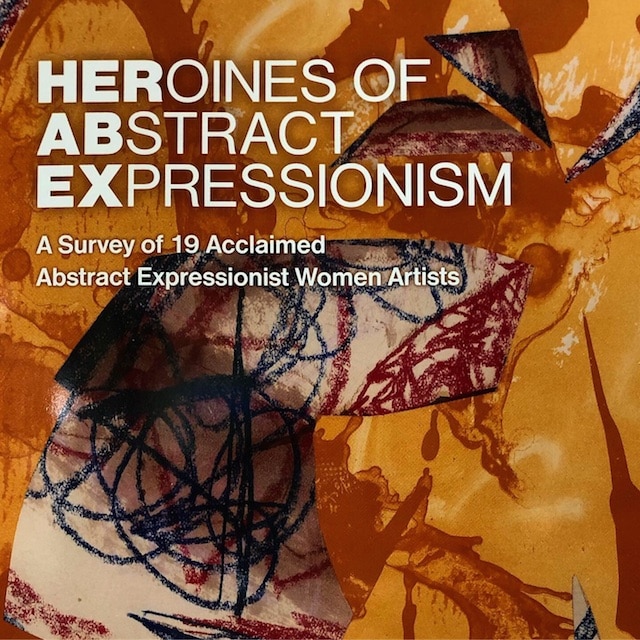 We saw this wonderful show last Saturday because I saw an ad for it on Instagram. (Yes, I guess those ads work!) I follow the hashtag #abstractexpressionism and live relatively near, so I was their perfect target market, and jumped at the chance to see it.
This show highlights 19 female abstract expressionists, which is a rare treat to see all in one place. After finding out about it on Friday, and realizing it was in a museum I've never been to only 3.5 hours away, I floated a spontaneous day trip to my husband for the next day, and we did it!  We are both so glad we did.
This small gem of a museum is in the beautiful little upstate New York town of Cooperstown, which is probably better known for the Baseball Hall of Fame. The autumn colors on the drive there were lovely in clear, warm, late September weather. But the actual exhibit?  While only spanning one large room, it was stunningly terrific as you can see below.
We had the additional delight of getting to meet the owners of this remarkable collection, who were up from the Hamptons to see it. We had a really nice chat with them, and I got to express my gratitude to them for collecting all this abstract work done by women. Since the artists in "the New York School" painted out in the Hamptons, these collectors had thought of what they were doing as collecting "local artists," which conveniently for them, turned out to be world class.
These collectors, who have more many more paintings (like six by Jackson Pollack) that are not in this show, have much to offer a public interested in abstraction.  They are so very gracious in sharing it, and I hope they have more opportunities to do that.
I loved the divine choreography that brought us together, and being able to discuss our mutual enthusiasm for the topic of abstraction. I really liked them as people as well, and you can see the fabulous openness of their energy in photos below.
It was their idea for the Fenimore Museum to mount this show, and I think it is the first more modern show this museum has had. Already, it appears to be well attended and appreciated, and will be up through December.
You can get an idea of the show below. Try to get to see it if you can, or get your local museum to bring it to you!