Linchpin (Book Review)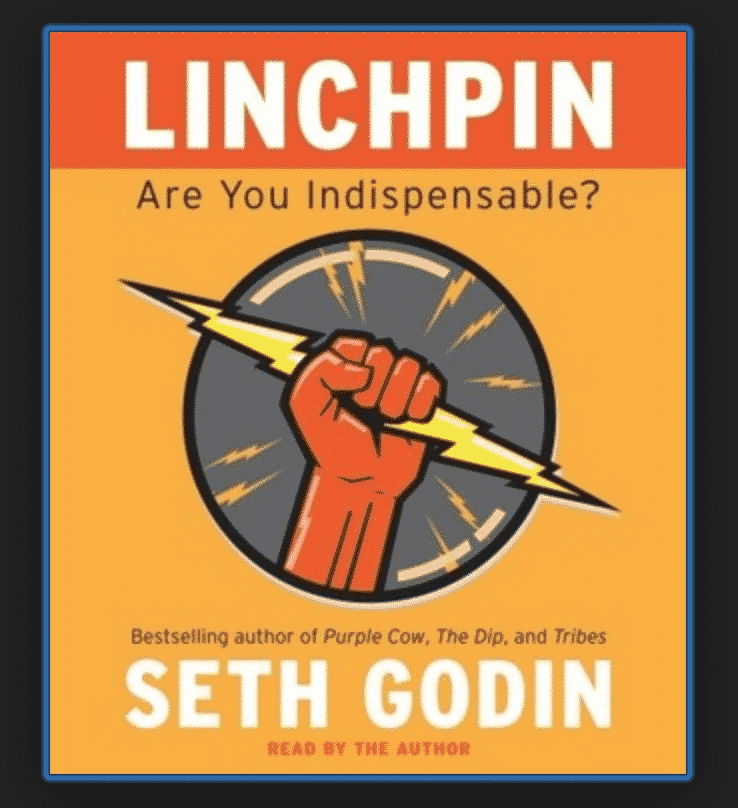 The first third of this book I was lukewarm about, but then I thought the last 2/3's of it was marvelous!
This book is about you living up to your potential and becoming indispensable for exactly your own unique gifts. Who doesn't want that? Linchpins love their work and pour their best selves into it like artists creating unique good in the world. We are encouraged to go beyond our job description to give of our whole selves, and I heartily concur. Life and organizations are lots better that way!
As Seth Godin says,"This book is about love and art and change and fear. It's about overcoming a multigenerational conspiracy designed to sap your creativity and restlessness. It's about leading and making a difference and it's about succeeding."
He encourages us not to be rule followers, working to fit into the system, and content to be a cog in the machine. Instead, it is time to stand out and go beyond. Conformity is a dead end street with no perks, and is so last century.
He encourages us to expend what he calls "emotional work" (which I do a lot of but never had head the term before), and discussed the need to overcome the pull of resistance which tries to stop us from doing it. We are told to focus more on being than doing– to aim for respect and love more than for approval and money (then you'll get it all).
He emphatically tells us all to be an artist in everything we do, and I loved hearing this. His definition of "artists" includes marketers, ministers, product developers, designers, plumbers, customer service people, managers, anyone utilizing creativity, passion, and finesse in their work.
Make something that matters with generosity, clarity and meaningful effort. It is the difference between the nurse or the restaurant hostess that is going through the motions until the shift is over, and someone warm and personable that goes out of her way to make everyone feel loved and getting their needs met with a smile and a listening ear. They have the same job description, but their experience (and ours!) is completely different, depending which way they swing.
I absolutely loved his definition of "art" so much that since I listened to the book (read well by the author), I'm obtaining a print copy so I can quote more of it for you (and yes, I even bought it instead of finding it at the library). I hope my blog readers will already understand this broad concept of art; it is something I have always thought and promulgated, but never heard articulated so well.
And that definition is a very pivotal point in this very perceptive book about how the world is changing. Working harder, faster and cheaper is no longer the way to get ahead. Working more creatively and perceptively, with warmth and care and people skills is. I've always said that with computers doing more and more of the work, human creativity and soul work are the commodities of value to cultivate. This author agrees.
And while this book can be a bit repetitious and disjointed, and I'd lop off the first third, I still think this is important enough to give five stars and urge you to give it a read, especially if you are interested in career development.
There were lots of great quotes in this book that I didn't get written down because I was listening and driving. But I did capture this one, "Great work is not created for everyone. If it was, it would be average work." Like so many parts of this book, that may seem to be a bit counterintuitive, but I heartily agree.