Recipe: Cod and Veggie Soup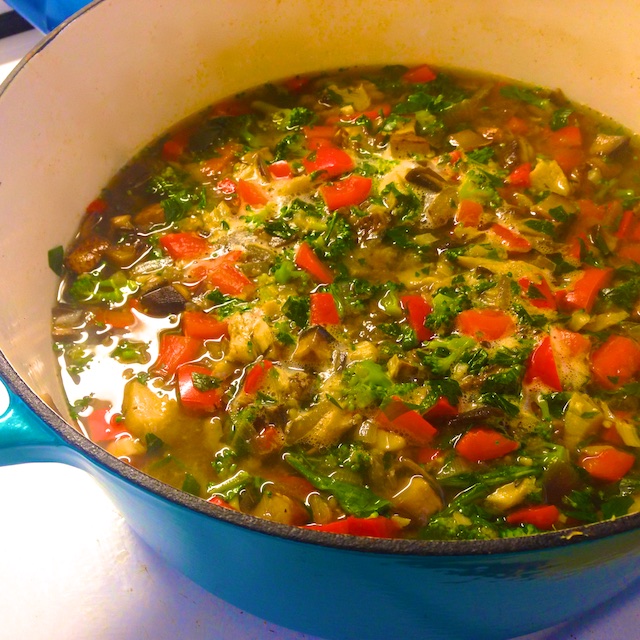 This is surprisingly good. Plus, it is easy and quick to make. It freezes well, too. I made this recipe up myself after tinkering with it for a while.
Removing the portobella mushroom gills keeps the soup from getting black and ugly. (It is quick to remove the gills; just scoop them out with a teaspoon.) The other vegetables in this perk up the color too; mushroom based soups are usually too brown for my taste, but this one is not. Also, searing the mushrooms on high after they have released their liquid prevents them from getting rubbery in texture. It is a helpful trick to learn.
We get our cod frozen at Costco, which is why I suggest thawing it, but fresh is fine too. If you are not familiar with Bouquet Garni or Green Curry Paste, there is a photo of them below.
4 Portobella mushroom caps, stems and gills removed
1 red onion, chopped
2 quarts veggie broth
1 head broccoli, tops only
1 bunch of arugula, chopped
2 red bell peppers, diced
8 garlic cloves, pressed
1 tablespoon green Thai curry paste
1 bunch of thyme, tied in a bundle for removing later
1 teaspoon bouquet garni
1 teaspoon salt
1 teaspoon white pepper
4 cod filets, thawed
1 large handful of fresh parsley, chopped
Saute onion and mushroom caps in a small bit of broth on medium high, until the mushrooms have released their liquid, the onion is soft, and the liquid is cooked off. Sear this on high for a minute, but before they stick, turn the temperature back down. This will lock in the mushroom's juiciness.
Add the garlic and stir for a minute. Add the stock and cod filets, the green Chili paste, bouquet Garni, thyme bundle, salt and pepper. Bring to a boil and boil until the fish is done and falls apart.
Add the peppers, broccoli, arugula, and parsley, and cook until broccoli is bright green but not soggy looking. Remove the thyme bundle.
Serve immediately, and freeze the leftovers.