Homemade Salmon Burgers (Recipe)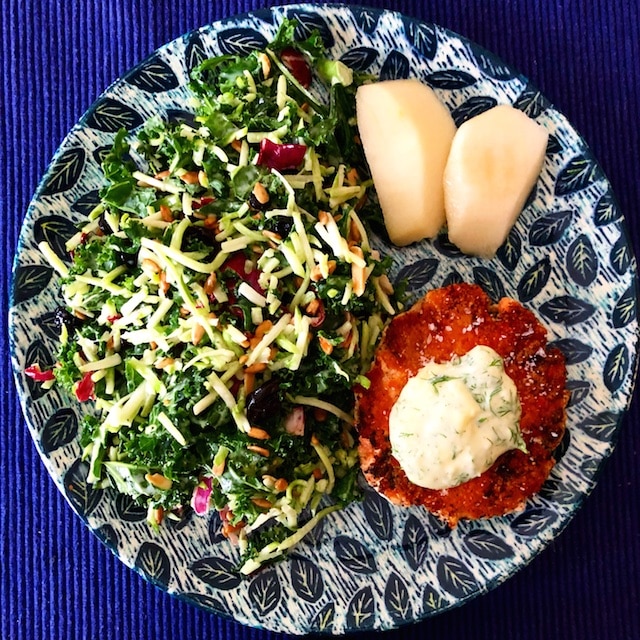 Pre-blog we made a salmon burger with bread crumbs in it that we thought pretty good at the time, but then my Salmon Cakes upstaged that with solid protein and veggies and we stopped making them. We still love the salmon cakes, which are made with leftover cooked salmon, but wanted to change it up with a version made with uncooked fish. After experimenting, here it is!
This stays together beautifully with just a touch of cassava flour and almond flour, so are fine to serve all your gluten free friends. They are hearty and easy to make, and then a breeze for later meals, just letting them sizzle and then be done.
I made these with previously frozen salmon, so did not refreeze them, but ate them within the week, sometimes even for breakfast (see one photo below)! I formed our patties only at the time I was going to fry them up. However, if you are using fresh salmon, feel free to freeze these after you make the patties, before you cook them, if that is better for you.
People like a different range of spiciness, so you'll have to pick your sweet spot on that. Use thai chillies with all the seed if you are hard core, or with only some of the seed (or none) if you are wimps like some of us. You can also trade off the chillies for jalapeños, if you know better how you much heat you want (or don't want) with those. We tend to make these on the milder side and pack a punch with our garnishes instead, but there is lots of flexibility here.
We serve ours without buns, but these could stand up to a beautiful brioche bun if that's what sounds good to you!
I recommend topping these with a dollop of aioli of your choice. We like: a) 1/2 cup of Homemade Mayo with 2 minced cloves of fresh garlic, and one tablespoon fresh lime juice, or b) 1/2 cup Homemade Mayo with a small handful of chopped fresh dill, and a 1/2 teaspoon of garlic powder.
Note: a food processor is needed for this recipe.
This makes 8 burgers.
Recipe for Homemade Salmon Burgers
2 pounds wild salmon, with skin removed
2 large shallot finely diced
1 teaspoon sea salt
1/2 teaspoon freshly grated pepper
2 hot peppers with or without seeds, finely diced (thai, Serrano, or jalapeños)
1 teaspoon freshly grated ginger
3 cloves garlic, minced
handful of fresh cilantro leaves, chopped
handful of fresh basil leaves, chopped
1 Tablespoon mint
1 regular organic egg
2 teaspoons fish sauce
2 teaspoons cassava flour
1/4 cup fine almond flour
Place half the salmon in the food processor and pulse shortly until barely mixed and still chunky. Don't over process it! Transfer to a bowl, and repeat for the second batch of salmon. Transfer that to the bowl too.
Then chop the other ingredients in the food processor until minced and mixed, including the shallots, salt and pepper, hot peppers (with or without seeds), ginger, garlic, cilantro, basil, and mint. Add that to the bowl with the salmon.
Add the egg, fish sauce, and cassava flour to the bowl with the salmon and veggies. Stir with a fork to combine.
Put the superfine almond flour on a plate. Fill a 1/2 cup measuring cup with the salmon mixture, and transfer it to your hands to form a patty. Place the salmon patty into the almond flour coating all sides of the burger with the flour. Then re-tidy up the patty into a good shape in your hands.
Heat a skillet with two tablespoons of olive oil on medium heat, and when hot, fry the burgers about 3 minutes on each side, until golden brown.
Serve with buns or without, topped with your favorite aioli, or some avocado slices.
Yum!
Enjoy!
[printfrindly]