Featured Artist: Christine Koch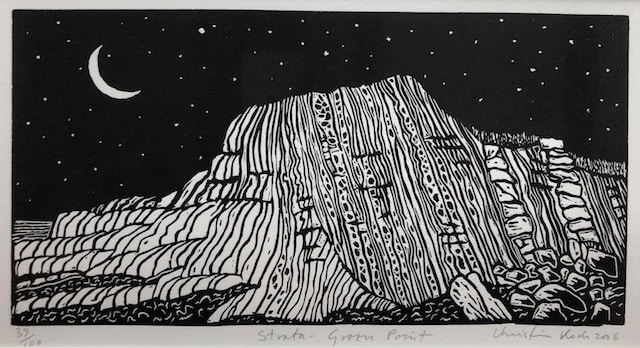 On a rainy day in Newfoundland, we spent some time studying the exhibits in the beautiful Discovery Center in Gros Morne National Park. I loved the large, framed artwork over the ranger desk. It is shown first below, even though I was unable to get a good photo of it because of the glare on the glass, followed by a few poor quality close ups, that will give you the flavor of it. It was a grid of small, stylized, gouache paintings of Gros Morne Park, done on black paper. I really appreciated each small painting in that grid, and since I was unable to get a good photo of it, I asked the ranger if they had a print of it. She said no, but the artist was local, only a few blocks away in Woody Point, and maybe I would like to meet her? Yes, please!
We went right over and Christine was a delight. She has a studio in St John, Newfoundland, during the year, and only spends summers in Woody Point. Several years back, she had been an artist-in-residence in Gros Morne, and since then she knew she needed to keep that wonderful place in her life.
It turns out that the work that I loved in the Discovery Centre was done in 2002, and she is doing more printmaking than painting these days. I found her prints to be marvelous as well and recognized this work from a couple restaurants we had been in.
Christine is also the one that recommended we go see Green Point geological site, even in the rain, and we are so glad we did. Several of her paintings and prints are of that fascinating place.
Anyway, I wanted to bring Christine Koch's lovely work to your attention. Check out the few photos below, and if you want to see more or buy some, contact her through her website. There are links there to follow her on Facebook and Instagram as well.