Recipe: Quinoa Granola Bars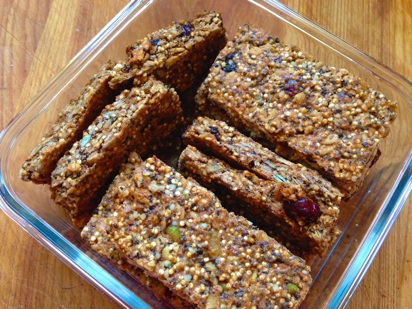 These are good and we like them even though my husband calls them "Bird Seed Bars." I originally got the recipe here, but have tweaked it some and may eventually tweak it some more. (I'm thinking next time: sprouted quinoa with more fruit and some egg white protein powder?)
In the meantime, these are better than buying bars separately, even though the ingredients here run on the pricey side too. They are a great breakfast-on-the-go option and stay with you battling hunger longer than most quick breakfast solutions.
1 cup peanut butter
¾ cup maple syrup
2 eggs
1 Tbsp ground cinnamon
1 tsp vanilla
1 cup raw quinoa
2 cup rolled oats (not instant)
½ cup hemp hearts
¾ cup green pumpkin seeds
1 cup dried fruit (a mix of cranberries, blueberries and cherries)
¼ cup chia seeds
¼ cup poppy seeds
¼ cup flax seed meal
Preheat oven to 325° F.
In a large bowl, combine the peanut butter, syrup, eggs, cinnamon and vanilla. After stirring well, add the remaining ingredients and stir well again.
Cover a rimmed baking sheet with parchment paper and grease the paper lightly. Pour the granola bar mixture onto the greased paper and press evenly across the pan. We did this by pressing through another sheet of parchment to spread it out evenly to the corners, since the consistency is sticky.
Bake at 325° for 20-25 minutes until the edges and underside are deep golden brown (you can lift it by a corner of the paper to check). Allow the bars to cool completely in the pan before cutting into 30 bars.
Eat fresh, and refrigerate or freeze extras.
Enjoy!