Apple Maple Crumble Bars (Recipe)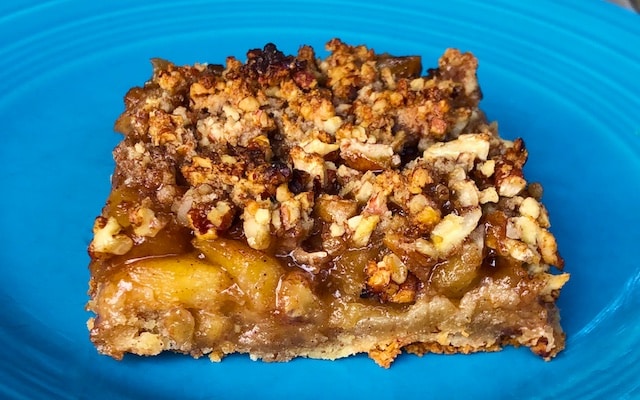 I get zero credit for this recipe except for seeing it on Instagram as created by @healthylittlepeach. My husband absolutely loved them, and said they were better than pecan pie, which is quite something for a Texan to say. They are a non-guilty sweet, although not too sweet, and are gluten free too. Just perfect for fall!
Apple Maple Crumble Bar Recipe
Filling:
3 1/2 cups chopped apples, peeled (or 3 medium apples)
1 1/2 tbsp coconut sugar
1/4 cup maple syrup
1/2 tsp cinnamon
1/4 tsp salt
1/4 cup water
2 tsp arrowroot flour
1/2 tsp nutmeg
1 tsp pure vanilla extract
2 tsp lemon juice
Crust:
2 cups almond flour
2 tbsp arrowroot flour
1/4 cup pecans
1 tsp pure vanilla extract
2 tbsp melted ghee
1/3 cup maple syrup
1/2 tsp salt
Crumble:
1 cup pecans
2 tbsp almond flour
2 tbsp maple syrup
pinch salt
pinch cinnamon
Grease a 9×9 baking pan with ghee and preheat the oven to 425F.
Peel, core, and chop apples.
Heat a sauce pan over medium heat. In the sauce pan add all the ingredients except for the arrowroot flour to the pan and stir with a spoon.
Allow mixture to heat for 3 minutes, then add the arrowroot flour, stir until combined and cook until the mixture becomes thick.
In a food processor, add all of the ingredients for the crust and process until mixture becomes a dough consistency.
Transfer the dough to the baking pan and spread out until it covers the bottom of the pan completely.
Pour the apple filling over the top of the dough and spread out until there is an even layer.
In the food processor, add the crumble ingredients and pulse until it becomes a crumble texture.
Spread evenly over the apple filling and transfer to the oven.
Cook for 20-25 minutes or until the top is browned and middle is set.
Yum! Enjoy!
[Printfriendly]