Roasted Eggplant with Harissa Tahini Sauce (Recipe)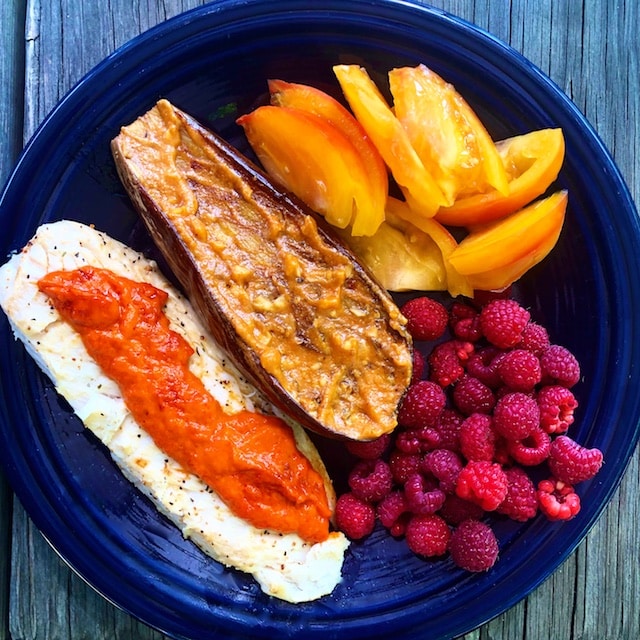 This may not be the prettiest recipe, but it sure is delicious. It is a great use for those garden or farmer's market eggplants that are in season right now.
You'll need harissa paste for this wonderful sauce. If your store doesn't have it, you can order either of these two varieties I recommend online: see here for the one I used (photographed below) or see here for another good variety. Both are mild– full of flavor but not hot.
This recipe is gluten free and vegan, so can be appreciated by everyone you are cooking for.
Roasted Eggplant with Harissa Tahini Sauce
For the eggplant:
2 small globe eggplants, halved lengthwise
2 Tablespoons olive oil
1 Tablespoon coconut aminos (or soy sauce)
2 teaspoons harissa paste
1 teaspoon maple syrup
sea salt
fresh herbs for garnish (optional to make it prettier: cilantro, mint, basil, or parsley)
for the Harissa Tahini sauce:
1 1/2 Tablespoons tahini
1 Tablespoon fresh lemon juice
1 teaspoon harissa paste
1 teaspoon maple syrup
1 small clove fresh garlic, minced
1/4 teaspoon sea salt
1/4 teaspoon black pepper
Preheat oven to 400ºF (rack in upper 1/3).
Score the flesh of the eggplant halves in a cross-hatched design, brush with 1 Tablespoon of olive oil, and sprinkle with salt. Roast skin side down on rimmed baking sheet or pyrex, for 25 minutes until tender.
Combine in a small bowl the remaining 1 Tablespoon olive oil, coconut aminos, harissa paste, and maple syrup. Whisk until combined.
Remove eggplant from the oven and increase the oven temperature to 450ºF. Brush this mixture over the eggplant, letting it seep into the scores. Put the eggplant back in the oven and roast for 15 minutes more, until the glaze is golden and bubbling.
Meanwhile, prepare the harissa tahini sauce by combining all those ingredients in a small bowl. Whisk to combine and add 2 teaspoons of water to thin it out slightly.
Once the eggplant is cooked, serve it hot with the harissa tahini sauce on top, along with herbs if desired.
Enjoy!
(Store leftover eggplant and sauce separately if not eating all of this at once.)