Spicy Shrimp on Mashed Potatoes (Recipe)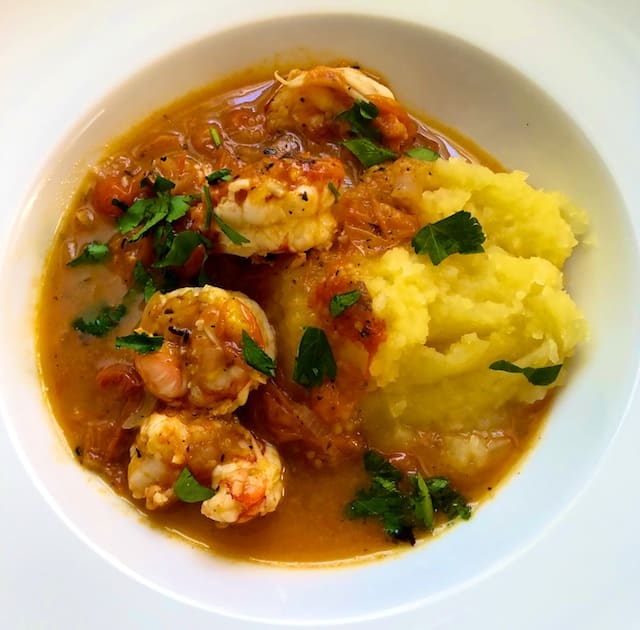 This recipe is a revision from one in the No Crumbs Left cookbook I reviewed yesterday. It seems like a lot of tomatoes, but they cook down for this luscious sauce. We used frozen tomatoes from last summer's garden, and it was really yummy.
Serves four, so for the two of us, the other half makes great leftovers.
Recipe for Spicy Shrimp on Mashed Potatoes
1 tablespoon plus 3 1/2 teaspoons kosher salt
2 pounds small white potatoes, peeled and quartered
7 tablespoons of butter or ghee
3/4 cup vegetable stock
2 teaspoons red pepper flakes
2 teaspoons coarsely ground black pepper
1 tablespoon olive oil
1/4 cup shallots, chopped
2 pints of cherry tomatoes, halved
1 (8 ounce) jar clam juice
1 pound shrimp, peeled and deveined
chopped fresh parsley for garnish
Fill a medium pot with water and 1 teaspoon of salt. Bring it to a boil over high heat. Add the potatoes and boil them until soft, about 20 minutes. Drain the potatoes and add .5 teaspoon of salt and 3 tablespoons of ghee or butter. Smash with a potato smasher, then add the vegetable stock and stir to combine. Cover and leave on low on a back burner to keep warm.
Heat a large saute pan over medium heat. Put the red pepper flakes in the dry pan for a few seconds and then add the black pepper for a few seconds, before adding the olive oil and 1 tablespoon of the butter or ghee. Stir until the butter or ghee has melted, then add the shallots and 1 teaspoon of salt. Stir until the shallots are translucent, then add the tomatoes and clam juice, stirring to combine. Cook for 25 to 30 minutes, until all tomatoes are broken down.
Add the remaining three tablespoons of butter or ghee to the tomatoes, and stir to combine. Then add the shrimp and remaining 1 teaspoon of salt, and cook, stirring until the shrimp are cooked through (about three minutes).
Spoon the potatoes onto a plate. Top it with the shrimp and tomato sauce, and garnish with parsley.
Enjoy!