Book Review: Happier at Home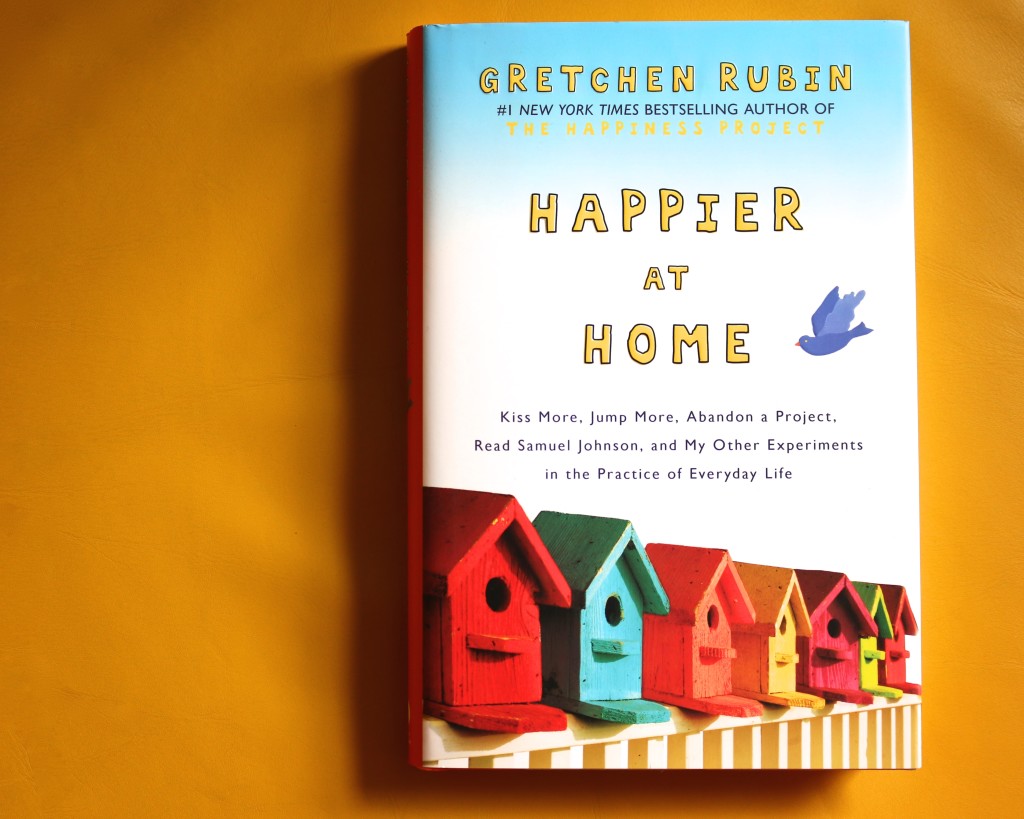 Because I liked Gretchen Rubin's Happiness Project so well, I nabbed her sequel when it came out in Costco several years ago, but never read it. Now that I am working on completing all the categories in my Reading Challenge before the end of the year, this book qualified in the category of something "at the bottom of my 'To be Read Pile'" so I finally gave it a read. While I honored her previous book with five stars, I can only give this one three stars.
I still enjoyed it, as you can see from my lists below, but there were no revelations here. She's a bit type A for my taste; for example, she plans very carefully to be spontaneous! I do applaud her, however, for striving to "be herself"; this deep authenticity is something my blog readers know I value very much, and it is different for all of us. But maybe in future books she can avoid using the phrase "nevertheless" so much?
She advocates:
Just because something is fun for someone else doesn't mean it is fun for me.
It's enormously helpful, and surprisingly difficult, to grasp the obvious.
You need new friends and old friends.
A change is as good as a rest.
It's more important to say something than to say the right thing.
Outer order contributes to inner calm.
Read the manual.
Try to be cheerfully accommodating.
Under-react to a problem.
Enter into the interests of others.
Go on weekly adventures.
The only person I can change is myself.
One of the best ways to make other people happy is to be happy myself.
No one else can make you happy.
Resist happiness leeches (grouches, jerks, slackers, etc.)
Keep a sense of humor.
Act the way I want to feel; behave the way I want to behave
Be polite and be fair.
Do what ought to be done.
Spend out (use stuff up.)
Mind my own business.
Do it now.
Respond to the spirit of a gift (not the gift itself).
Love what you have; do what you value.
Boredom can be important because that's when you figure out what you want to do.
To get stuff done that you want/need to do but don't enjoy, agree to suffer for exactly 15 minutes each day.
Cultivate an atmosphere of growth.
Keep it simple.
Jump more.
I'm not happy unless I think I'm happy.
Less is more.
Start early if possible.
Don't let anyone get too hungry.
Carry tissues.
Get plenty of sleep.
There's joy in routine, but occasional disruption makes routine all the sweeter.
Be a tourist without leaving home.
See things with fresh eyes.
Learn more.
Go off the path.
Do good = feel good.
Be kind.
Do what you want to do. (If I don't really want something, it won't make me happy.)
Break a large task into smaller tasks.
Write down anything I need to remember.
Always put your keys in the same place.
Now is where your treasure is.
Questions she asks herself to help make choices:
What am I waiting for?
What would I do if I weren't scared?
What steps would make things easier?
What would I do if I had all the time and money in the world?
If I were looking back at this decision five years from now, what will I wish I had done?
And I enjoyed these quotes which I think are pertinent:
'The true secret of happiness lies in the taking a genuine interest in all the details of daily life' William Morris

'It is impossible to win the great prizes of life without running risks, and the greatest of all prizes are those connected with the home.' Theodore Roosevelt
"Each time of life has its own kind of love." Leo Tolstoy
"If better were within, better would come out." Simon Patrick
"One lives in the naive notion that later there will be more room than in the entire past." Elias Canetti
"Plans are worthless, but planning is everything." Dwight D. Eisenhower
"It is hard, so terribly hard to please yourself. Far from being the easy thing that it sounds like, it is almost the hardest thing in the world, because we are not always comfortable with that true self that lies deep within us." Christopher Alexander
"The habit of being happy enables one to be freed, or largely freed, from the dominance of outward conditions." Robert Louis Stevenson
Other than what I've quoted here, I'd recommend sticking with her first book….