Recipe: Roasted Garlic Vinaigrette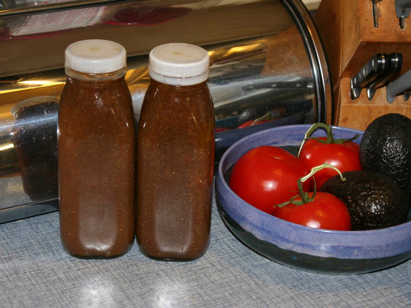 This recipe is from Mollie Katzen's wonderful book (shown in the last photo) called Eat, Drink and Weigh Less. (By way of a disclaimer, I have to say, though, that I've been using this book for years and weigh no less.) This salad dressing recipe, however, has become our favorite, while we also make her Buttermilk Ranch Dressing in smaller quantities.
First you must make some Roasted Garlic Paste by slow roasting some garlic. Cut off their tips, and sit them in a small puddle of olive oil on a baking sheet covered in aluminum foil (to make clean up easier.) Place these in a preheated oven (375 degrees) for 30 to 45 minutes; larger cloves will take longer to roast. Once they are out, let them cool. (Now revel in the intensely aromatic fragrance that has invaded your house!) Once cool, squeeze out each clove into a bowl. (Quite fun and messy; my kids like to join in!) Once all the garlic pulp/ooze is in a bowl, mash it. We'll use this in this dressing but it is also good in sandwiches, in stir-fries, on pizzas, etc, and will keep nicely in the refrigerator for those purposes.
Roasted Garlic Vinaigrette recipe
1 tablespoon Roasted Garlic Paste (see above)
1/4 teaspoon salt
3 tablespoons Balsamic Vinegar
1/2 cup plus 2 tablespoons extra virgin olive oil
Whisk together the first three ingredients well before whisking in the fourth. The mixture will thicken as the oil becomes incorporated. Bottle and refrigerate until use, shaking well before pouring. Yield: 2/3 cup or 11 servings.
To make two bottles worth, I used six cloves of garlic and the above recipe five times. Ah… all the wonderful salads we'll have!
See the photos below and give it a try…