I Made This Wreath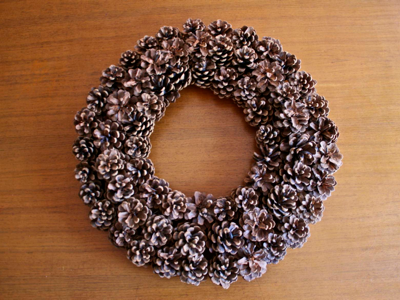 Today we "took Christmas down"…not in the real sense of removing the Christ being reborn in our hearts everyday… but rather we put away the trappings of the secular holiday for another year.
There are many memories attached to all this stuff. This pine cone wreath I made is one of them. But so are some old family ornaments… an angel that was of a set of three which each of us sisters now has one, and a whirligig from my childhood that goes around by the heat emanating from the Christmas tree light.
A favorite every year is a delicate angel made out of pasta that was handmade and given to me by my tent-mate in Girl Scouting all those years ago. 
We have classy hand-blown ornaments purchased on travels and salt dough ornaments we made when our children were young.
There is a manger scene I drew during an inspired moment in college, and the stockings my mother made when each was a new member of the family.
Most bits are either family heirlooms or handmade — which reveal our values I guess — and many things are both.
We're done for now taking down Christmas decorations.  It is good to clean it all up and put it away to rediscover another year. All of a sudden our living room feels bigger and fresher without the tree and all that extra stuff. It is just as good to put it away as get it all out again.