Roasted Carrots with Tahini, Pistachios, and Mint (Recipe)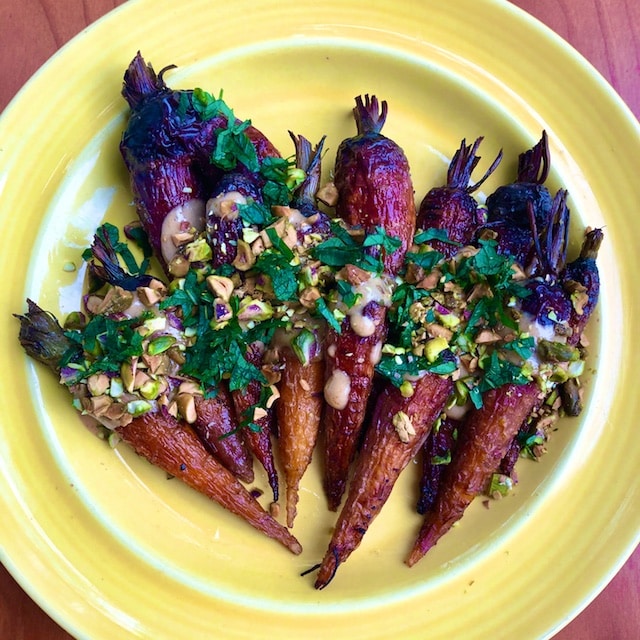 My husband grows the most beautiful produce. And when carrots as gorgeous as his are harvested–see photo below– you want to do something truly amazing with them, instead of just grating them up in tunafish!
This turned out to be a magnificent way to use them, and this recipe can transport any ordinary grocery store carrot to a different stratosphere as well. I'm thinking this would be a terrific side for Thanksgiving, too. The earthy deliciousness tastes like fall, or the best of winter cuisine. I'll be doing this a lot, I can already tell.
This recipe is easy, but takes some time– most of it when you don't need to tend it, and when you can do other things. I left the carrot tops on, because the fanciest restaurants do, but if I had grocery store carrots, I would not.
These red carrots came out looking dark once cooked, but tasted perfect in every way. Also note, if you scrub these colored carrots too hard, their stunning color comes off, leaving them rather sad looking, but tasting just as good. So be gentle washing up fancy colored carrots.
And by the way, you can purchase pistachios already out of their shell from Costco.
Recipe for Roasted Carrots with Tahini, Pistachios, and Mint
For the Roasted Carrots:
2 pounds whole carrots, trimmed and scrubbed
1 Tablespoon ghee (or clarified butter)
1/2 teaspoon ground cumin
sea salt and freshly grated black pepper
1/4 cup raw pistachios, roughly chopped
10 fresh mint leaves, chopped
For the Tahini Sauce:
3 Tablespoons of tahini (make sure is well mixed in the jar)
3 Tablespoons water
1 Tablespoon olive oil
1/2 Tablespoon maple syrup
1/4 teaspoon cayenne pepper
a pinch of salt
Preheat the oven to 400ºF
Bring a pot of salted water to boil. Add the carrots and blanche for 10 minutes. (They will be slightly softened, yet still firm.)
While the carrots are cooking, make the sauce, by combining all the ingredients in a small bowl or food processor and whisking or whirling until well blended.
Spread the carrots in a single layer on a baking sheet or large pyrex. Add the ghee, and toss to coat. Sprinkle with the cumin, and salt, and pepper. Bake for 40 minutes, turning the carrots half way through.
Transfer to a serving plate and drizzle with the tahini sauce, and top with the chopped pistachios and mint.
Now oooo and aaahh as you taste them!
Enjoy!