Brussels Sprout Salad with Hemp Heart Dressing (Recipe)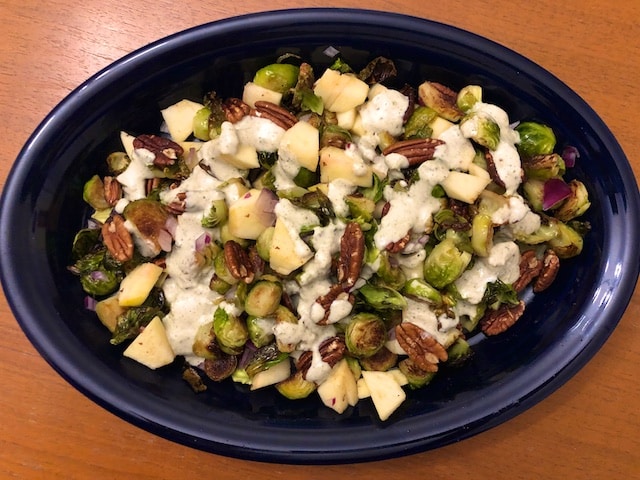 This recipe is vegan and delicious. It is borrowed, with modification, from Laura Wright, the blogger at The First Mess, and who I follow on Instagram. I never knew before that hemp hearts make such a good dressing! They are good for you, and I'm thrilled to have this great use for that huge Costco sized bag of them that I have around.
This would be great on your Thanksgiving or holiday table, or like us, just eat it as a terrific side to share on an average weeknight.
Brussels Sprout Salad with Hemp Heart Dressing Recipe
¼ cup pecan halves, toasted
3 tablespoons olive oil
2 garlic cloves, peeled
1 ½ lbs brussels sprouts, cut in half lengthwise
sea salt and ground black pepper, to taste
½ cup hulled hemp seeds (hemp hearts)
¼ cup water
3 tablespoons apple cider vinegar
1 tablespoon maple syrup
2 teaspoons dijon mustard
1 apple, peeled and chopped
½ small red onion, diced
Preheat the oven to 400°F
Toast the pecans as the oven warms.
Put a large, oven-safe sauté pan over medium heat. Once it's warm, pour in the olive oil and add the garlic cloves to the pan. Sauté the garlic cloves until they are well-browned on all sides, about 3 minutes. Remove the garlic cloves from of the pan (leaving the oil behind) and transfer them to an upright blender.
Add all of the brussels sprouts to the garlic-infused oil in the pan, trying to get the cut side facing down on as many as possible. Sauté and stir the brussels sprouts until golden brown on at least one side, about 5-6 minutes. Season the brussels sprouts with salt and pepper.
Transfer the pan of brussels sprouts to the oven. Let them roast until tender and deeply golden, about 15-20 minutes.
While the brussels sprouts are roasting, make the creamy maple mustard dressing in the upright blender. Add to the garlic cloves, the hemp hearts, water, apple cider vinegar, maple syrup, dijon mustard, salt, and pepper. Blend this mixture on high until it is creamy and smooth.
Transfer the warm roasted brussels sprouts to your serving plate and mix with the chopped apple, red onion and toasted pecans. Drizzle some of the dressing over the top. Sprinkle a bit of finishing salt.
Serve immediately and enjoy.