Painting Exercise: Green Stripes, Ten Ways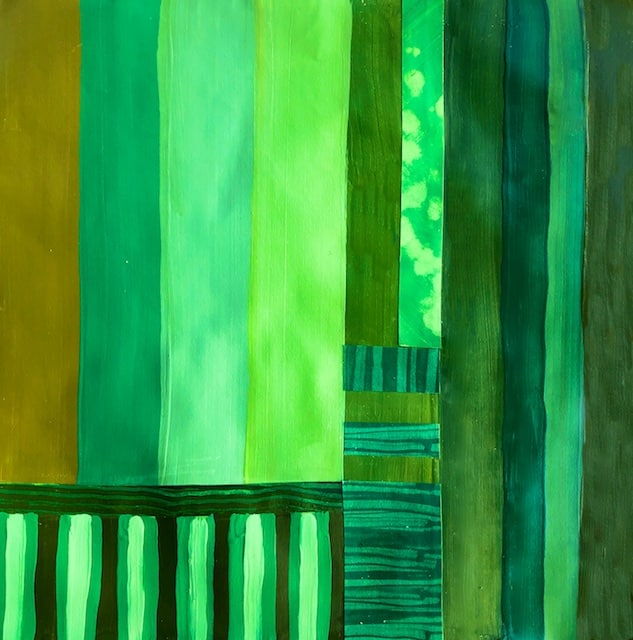 Some of you have expressed curiosity about my art practice, do I always work toward finished pantings? The answer is no. I have an art journal practice and I make myself do exercises which hone my skills. In these ways a grow my technical skills, and try out ideas.
I've been wanting to practice a wide range of mixing greens, and that is what I've done here, using a limited design concept– stripes– so I could focus on changing the hue, saturation, and value of the greens and see them in context adjacent to each other. Some greens I added looked just fine until surrounded by other greens, and then they looked too turquoise, so I painted over them with more middle range greens.
I did not allow myself to swing very widely on the color wheel spectrum in these. I had about a dozen different blues and about six different yellows to mix with all those blues, plus white, buff, grey and black to add to them. I did not allow myself pure white or black in these compositions, so they do not read as dynamic as they would with the full value range available.
What happened here is that these little paintings automatically harmonize and feel unified, because that are all the same color and similarly structured. Variety is achieved with changing strip direction, color juxtaposition, and with small bits of stripped collage.
Personally I'm a favor of more variety and less unity than these have, since I feel this much "unity" is rather boring. I like complexity and am comfortable with a lot of variety going on. But there is nothing like seeing these, in contrast to what I usually do, to understand why I feel that way. Zen? I guess I get that in my quiet time. I want my paintings to offer more overtly positive stimulation.
Was this exercise worth my time? Yes, I came away with more go to greens, and nuanced ways to position them. And these works may eventually become collage papers themselves, incorporated into actual finished artwork as individual elements.
I think working on exercises is as important as doing scales on the piano, and there are all sorts of kinds to do. Give yourself a narrow assignment, and change it up. You'll be surprised what you get out of it and what you learn.