Baked Frittata with Spaghetti Squash, Bacon, and Mushrooms (Recipe)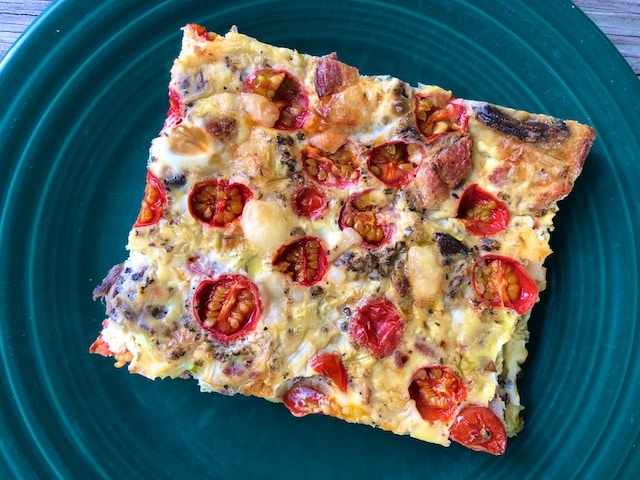 This takes some time but makes a lot, so it is great for feeding a larger group, or for having leftovers during the week. You can prep the parts in advance and put it together closer to serving time. I used the last tiny cherry tomatoes from the garden, and a bit of leftover cheese from the reception at my show. If you are dairy-free, cheese adverse, or on Whole30, it would be just as good without the cheese, so don't let that stop you from trying it!
Baked Frittata with Spaghetti Squash, Bacon, and Mushrooms Recipe
1 spaghetti squash
olive oil
8 slices of bacon
8 ounces of cremini mushrooms, sliced
1 pint of grape or small cherry tomatoes, halved
2 bunches of scallions, chopped
1 teaspoon salt
a few slices of cheese, diced small (optional: leave out for Whole30)
1 1/2 teaspoon of Italian seasoning
12 large eggs
Preheat oven to 425ºF (to be lowered later to 350ºF)
Cut the spaghetti squash in half, remove the seeds, sprinkle with salt, and place cut sides down in a baking dish with a little bit of olive oil. Bake it for 35 minutes or until the skin can easily be pierced with a fork. Remove from oven, and turn down the oven to 350ºF.
Let the spaghetti squash cool for about 10 minutes. Pull strands away from the skin with a fork and set the yummy innards aside. Squeeze all the moisture out of the spaghetti squash with a paper towel.
While the spaghetti squash is cooking, cook the bacon and mushrooms. Cook the bacon until crisp and then cut or crumble it into bits. Leave about a tablespoon of bacon fat to grease the pan and cook the mushrooms over medium heat until browned and tender.
In a large bowl, combine the spaghetti squash, bacon crumbles, mushrooms, scallions, salt, and half the tomatoes. Mix this together until combined.
Line a 9″x13″ pyrex pan with parchment paper, and then add the spaghetti squash mixture. Scatter on the bits of cheese, it you are using it.
Whisk the 12 eggs together with the Italian seasoning. Pour over the spaghetti squash mixture, and mix it in just a bit until even. Top with the other half of the tomato halves, turned upward to be decorative and pretty.
Bake for 50 minutes or less, until set, but not too brown at the edges. Lift parchment out of the pan if you are not going to eat this all at once, to avoid your leftovers from getting too dried out by sitting in the hot pan.
Cut immediately and enjoy!