Simply Delicious Beet Greens (Recipe)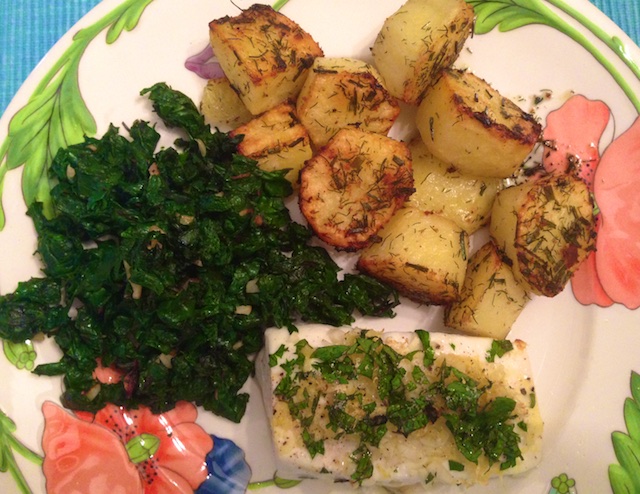 My husband has brought in so many beets from the garden, I'll be roasting them for a week. Meanwhile, now is a perfect time to eat the succulently delicious beet greens, which are such a treat. They are not at all gamey like chard is, and softer than collards, mustard greens, or kale. They my favorite cooked green– soft and sweet.
I have tried all sorts of fancy methods for cooking them, but I like this simple one the best. This cooks way down and serves two, as shown above. Even though this recipe uses pepper flakes, it is not spicy at all.
These greens wilt quickly and you don't want to waste any! If you are like us and have a whole lot of beet greens at once, simply process them all as immediately as possible up to the "squeezed lump" stage (see bottom photo), and then either refrigerate them, or freeze them. That way you are ready to start the skillet step when you want to make them in the future.  It is nice to have these already in the refrigerator in a way that they will come together very quickly when you are ready to have them.
If you haven't made beet greens before, please try them! It is worth a special visit to the farmer's market just to indulge in this simple pleasure this time of year.
Recipe for Cooking Beet Greens
2 big bunches of beet greens (washed thoroughly and stems removed)
2 tablespoons of olive oil
2 garlic cloves, minced
1/4 teaspoon pepper flakes
salt
Bring a big pan of salted water to boil.
Blanch the greens by putting them in the rapidly boiling water for 2 minutes. Remove them, and plunge them directly in a bowl of ice water. Remove them again, and squeeze out all the excess water. You'll have a "squeezed lump" that you can either proceed with cooking, or store in your refrigerator until you are ready.
Chop the lump of squeezed greens.
Warm a skillet over medium heat, and then add the olive oil, garlic and pepper flakes. Stir for a couple minutes and then add the chopped greens, mixing well for a couple minutes more. Serve immediately.
Enjoy!