Recipe: Ricotta Maple Nut Protein Muffins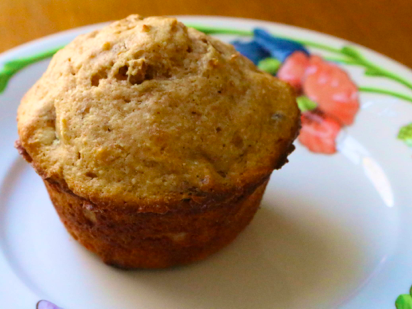 While many muffins count practically as desert, these have actual food value. If you are looking for something that satisfies hunger and keeps working for you for a whole chunk of your day, these are what you are looking for. They are dense with nutrition, but also delicious and easy to make. Not very sweet, they are especially awesome warm with fig butter…
(This recipe is a modification of one in Mollie Katzen's Sunlight Cafe.)
butter for greasing the muffin tin
1 cup sprouted spelt flour
1/2 cup egg white protein
1/2 dry milk powder
1/2 teaspoon salt
1 1/2 teaspoons baking powder
3 tablespoons sugar
1/4 teaspoon cinnamon
a few grates of nutmeg
1/2 cup minced walnuts, lightly toasted
1 cup ricotta cheese
1/4 cup milk
1/4 cup maple syrup
2 large eggs
1 tablespoon vanilla extract
1 1/2 teaspoons almond extract
4 tablespoons (1/2 stick) butter, melted
Preheat oven to 350˚F.
Butter muffin tin. Lightly toast walnuts.
Combine flour, protein powder, powdered milk, salt, baking powder, sugar, spices and walnuts in a medium sized bowl. Stir until well blended.
Place ricotta in a second medium sized bowl, and beat in the milk and maple syrup. Add eggs one at a time, beating well with a whisk. And in Vanilla and almond extract and stir well.
Pour the ricotta mixture and the butter into the dry ingredients. Using a rubber spatula stir from the bottom until all dry ingredients are moistened. Don't over mix. Some lumps are fine.
Spoon batter into prepared muffin cups. Bake 20-25 minutes until a tooth pick comes out clean. Cool on a rack before serving.
Enjoy!