Shrimp Avocado Lettuce Wraps (Recipe)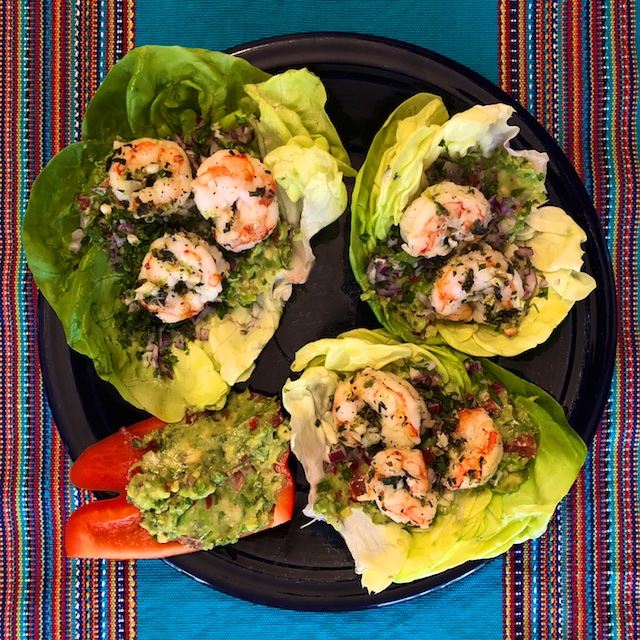 These are like grain-free shrimp tacos, but with totally different seasonings. They are flavorful and mild. They are a  fun and delicious change of pace, and perfect if you are craving guacamole!Or maybe I'm just dreaming of summer on a snowy day?
Shrimp Avocado Lettuce Wraps (Recipe)
1/4 cup avocado oil (or olive oil)
2 Tablespoons fresh oregano, minced
2 garlic cloves, minced
zest from one lime
1 lb raw shrimp, peeled and deveined
1/4 red onion (divided), peeled and finely diced
1/2 cup fresh cilantro (divided), minced
2 ripe avocados, smashed
one small tomato or several cherry tomatoes
juice of 1 lime
1 chipotle pepper, minced
salt and pepper
1 head butter lettuce, leaves separated
Preheat oven to 400ºF.
In a bowl, combine the oil, oregano, garlic, and lime zest. Toss in the shrimp, and mix well. Refrigerate, covered, for at least 30 minutes.
In another bowl, mix 1/8 red onion, diced, with 1/4 cup fresh cilantro, minced. Cover, and set aside in refrigerator.
Make the guacamole by mixing together well the smashed avocados, 1/8 red onion (diced), 1/4 cup cilantro (minced), with the juice of one lime. Then gently fold in the tomatoes and chipotle pepper. Season with salt and pepper.
Place marinated shrimp on parchment paper on a cookie sheet, season with salt and pepper, and bake for 8-10 until done.
Assemble the wraps by spreading the guacamole liberally in the center of each leaf, followed by a sprinkling of the refrigerated onion/cilantro mixture, and top with the baked shrimp.
Eat by rolling up the leaves with the yumminess on the inside.
Enjoy!