Great Portobello Mushroom Burgers (Recipe)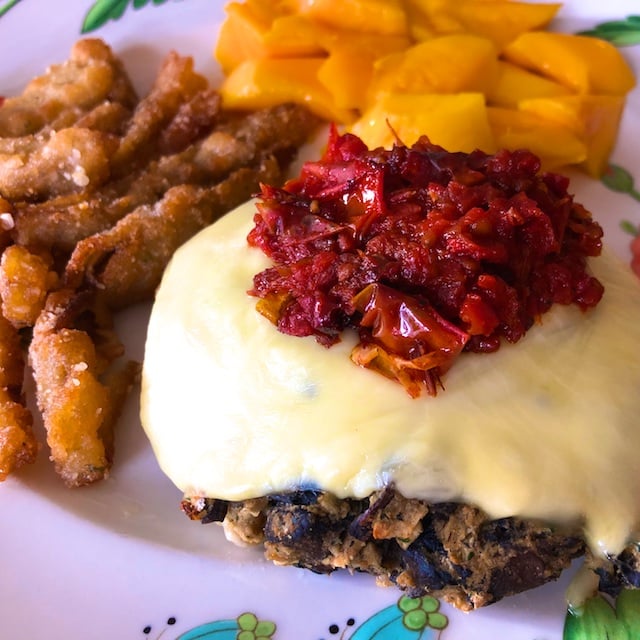 Over the years, I've tried many (many!) versions of veggie burgers only to never post them on the blog. They were never worthy of the honor, either crumbly and falling apart more like hash, or a soggy, squishy mess that would ooze out of a bun after every bite. It is a miracle I even tried yet another recipe, but this time we hit a gold mine!
This burger, holds its shape perfectly, neither too dry nor too wet. Plus it is gluten free, is delicious, and freezes well. Sticky things like the dates and tahini must be the difference. Make this veggie burger with confidence; you'll love it too.
There are some tasty veggie burgers on the market, but most have unpronounceable ingredients, making this one much healthier, with its veggies, beans, rice and oats. The only mystery here is those dates who provide their magic in stickiness without contributing to the flavor. These burgers are satisfying for their 100% food value with no filler, as well as for their great umami taste.
Be creative how you serve it. This could stand up to a bun, so go for it if you wish; we are not bun eaters right now. You can have it with cheese or without; without it is vegan as well as gluten free.
I topped ours this time with Slow-Roasted Tomatoes (that we have a ton of in our freezer from our garden surplus), but salsa, or hummus, or Creamy Herb Dressing, or Roasted Red Pepper Sauce, or Artichoke Pesto, or guacamole, relish, red onions, spinach, grated carrots, spouts, or micro greens would also be fabulous.
This recipe is adapted from one by Anna Jones, in her wonderful vegetarian cookbook A Modern Way to Eat, shown first below. (That book is a great gift idea for any vegetarian you know.) Anyway, all kudos for this recipe go to her. She calls hers "The Really Hungry Burger," and her version on a bun is shown last below, after my husband's version with neither cheese nor a bun, and his garnish on the side.
Recipe for Great Portobello Mushroom Burgers
olive oil
6 big portobello mushrooms, roughly chopped into small pieces
1 Tablespoon fresh thyme, leaves only
sea salt and freshly ground pepper
1 15oz can of white beans (navy or cannellini), well drained
4 large medjool dates, pitted
2 large cloves of garlic, minced
a handful of fresh parsley leaves
2 Tablespoons of tahini
2 Tablespoons soy sauce or tamari
1 1/3 cup cooked and cooled brown rice (2/3 cup uncooked)
2/3 cup oats
grated zest of one organic (unwaxed) lemon
Put a large pan over medium heat and add a splash of olive oil. When the pan is hot, add the mushrooms and thyme, and season with salt and pepper. Cook until mushrooms have dried out and are slightly browned. Set aside to cool.
Next, drain the white beans and put them in the food processor with the dates, garlic, parsley, tahini, and soy sauce. Pulse until you have a smoothish mixture, then transfer to a bowl. Add the rice, the oats, the lemon zest, and the cooled mushrooms. Mix well and put into the refrigerator for ten minutes or so to firm up.
Once cooled, divide the mixture into eight portions, and shape into 8 patties. Place them on a baking tray lined with parchment paper and keep in the fridge until needed. These can be made in advance if you are serving them to company; just bake them straight from the fridge whenever you are ready to eat. Or they do well frozen at this point, to be thawed and then baked when desired.
Preheat your oven to 450ºF.
Bake the burgers for 15 minutes, until nicely brown. If you like cheese on your burger, put a slice on top a couple minutes before they come out of the oven.
Enjoy immediately either with or without buns!