Give the Gift of Solution-Oriented News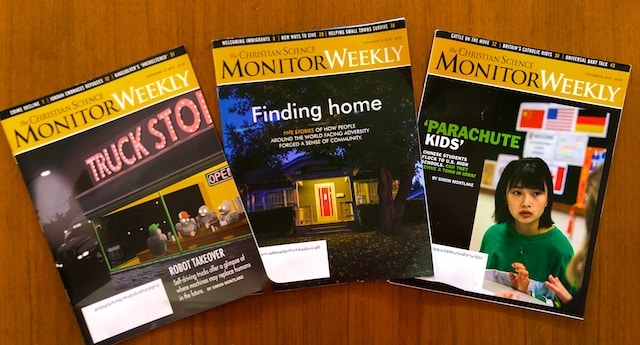 The Christian Science Monitor is a wonderful, unbiased, solution-oriented newspaper that was designed as a positive, healthy option to the sensationalistic ("yellow") journalism of 120 years ago. Now more than ever this thoughtful, productive role is needed in the world.
Every year, this is one gift I give at the holiday season, and I want to encourage you too to give the gift of balanced, unifying, hopeful views on our world that inspire, encourage, inform, fascinate, and touch the reader. A paper that is intelligent, helpful, value-added, and heart-filled– what could be better?
And I assume you know this is just a newspaper, not a religious periodical? Its mission is "to injure no man, but to bless all mankind." Wouldn't a little more of that approach help the global conversation, making it more constructive?
Personally, I am a fan of the weekly paper edition shown in the photos above and below, but there are daily digital only versions available too, which save both trees and money if you'll actually read it that way. Me, I like sitting down without my device on occasion!
Here is a letter from Monitor editor Mark Sappenfield about how the Monitor is sharing "credible good":
"Dear reader,
These have been trying times for news organizations. Perhaps you've noticed.
In recent years, The Christian Science Monitor's journalism has reached you via newspaper, magazine, a digital edition of that magazine, and a daily email, all in attempts to adjust to a changing industry.
Amid all of that change, you are confronted with a polarized world teeming with news that fits partisan narratives.
Can a news organization dedicated to injuring no man and blessing all mankind endure in these stormy seas? We wholeheartedly answer: Yes.
In founding the Monitor 110 years ago, Mary Baker Eddy did not really just start a newspaper. She shared an idea with the world.
This idea has long looked and acted like a newspaper, but in its heart it is something much more. It is the gift of looking at the world in a different way: seeking the credible good in action all around us.
We don't see this struggle reflected in much news today. Traditional news too often focuses on the sensational. At the same time, saccharine "good news" falls flat.
As such, we believe Mrs. Eddy's idea is as powerful and needed today as in 1908.
In our day-to-day lives, good is obvious and real to us in our families and communities. When we see it there, it fuels our love, confidence, and sense of belonging.
But often as we look at the wider world, that good can seem to disappear. We become suspect of others' motives. We grow cautious. Our love recedes.
Why does good seem to evaporate the farther afield we look?
If we choose, we can see the world through the lens of the struggle for good everywhere.
Good often comes through trial and with ample disagreement. But who is telling the story of humanity's perpetual efforts to find a way through that disagreement?
The Monitor is, was, and always will.
We're glad to be with you in pursuit of this story.
Can you think of friends, colleagues or family members who are also seeking the credible good every day?
Consider bringing them into the Monitor community by giving them the Monitor as a gift this holiday season.
Give a subscription to the Monitor
Gifts starting at $29
As always, thank you for reading and for your support.
Mark Sappenfield, Editor"
Click here to buy gift subscriptions to the Monitor