Recipe: Slow Roasted Roma Tomatoes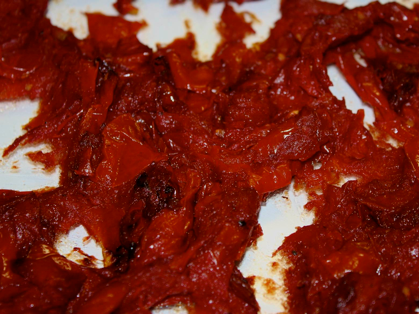 This is one of our favorite recipes. (Thank you Mollie Katzen!) It has the potential to revolutionize your meals. Dare I say they are sensuous? They require very little work; you just need to be home for several hours anyway, doing other things. These slow roasted tomatoes make anything better. We use them mostly added to sandwiches. With them in our open faced tuna melt, it becomes wonderful beyond words. They are also good with pasta, on pizza, added to stir fries, as a garnish on protein, or in omelets. You are really making a base ingredient here, rather than an end in itself.
In the first photo below, you can see today's Farmer's Market booty, complete with gorgeous Roma tomatoes front and center. Overall, it has not been a great summer here for tomatoes, so this farm gets extra kudos for growing such beauties! If you didn't know how awesome these will taste all shriveled and dried up, one could think it a shame to make such mush out of these succulent things. They reduce in volume significantly. You can see that two pans worth yields only a thin layer of half of one pan combined at the end.
Oven Roasted Roma Tomatoes
Preheat your oven to 275 ˚F.

Core 2 pounds of the tomatoes and cut them in quarters.

Stir in 1 to 2 tablespoons of olive oil.

Place them in the enter rack of the oven.

After an hour stir them, then move them around every 10 minutes or so.

Decide when they are done (around 3 hours); you want them caramelized.

Let them cool to room temperature before storing them in the refrigerator.
Two pounds of roasted tomatoes will fit in a snack size Ziploc bag.
Best used in the next five days, but we have successfully frozen them as well.
See step by step photos below. Then make them and exclaim in rejoicing awe…