This Week's Shared Harvest Haul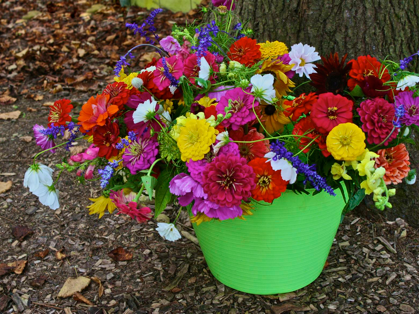 We've enjoyed being part of what New Pond Farm here calls their "shared harvest" program. Other places call the same idea CSA's (Community Supported Agriculture.) We pay a yearly fee based on how much labor we are willing to contribute.
Our twelve year old daughter enjoys working in these fields so much that she has continued to volunteer every week even long after our maximum hours were accrued. Each week we take home our portion of the harvest on Wednesday. This week, when I went to pick up our share of the food, I was blown away by the flowers. How to pick just one bouquet from among these? So my solution, of course, was to photograph them, and share the pleasure a little wider. Also see a photograph looking out of the beautiful grove of trees where we collect our share of the produce each week.
At the bottom of this post, you'll see our share of this week's produce arrayed on our table. As of this writing, a little over a third of that has already been eaten. Yum! Local and organic is the way to go for so very many reasons, not the least of which is a sustainable lifestyle, but freshness and superior flavor come into play as well. To find your own local food click here, and consider joining a CSA program near you next year!