Book Review: Five Quarters of the Orange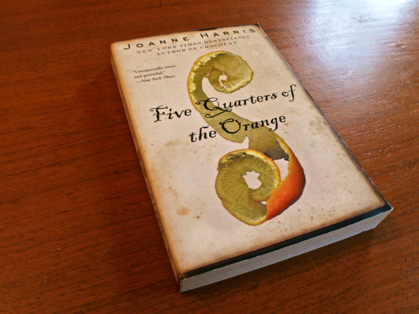 Wow. This is quite a book. I find myself wanting to discuss it with someone, so I think it would be a good book club selection. Contrasting words like collaboration or resistance, vindictive or innocent, sweet and sharp, beautiful and ugly all come to mind regarding this extraordinary novel.
Written by the author of Chocolat, this is deeper and darker than that book, with more complex themes. Joanne Harris is amazingly adroit in her unusual handling of a war theme which is both laced with elaborate poetic metaphor as well as steeped in an intriguing mystery to be unveiled. Like an orange, the story is unpeeled slowly with all the pieces not falling into place until the end.
Written from a nine year old child's viewpoint, as a sixty four year old woman's flashback, this is a compelling, and at times riveting story. I read it in two sittings; I had a hard time putting it down.
The book is about secrets, about mother-daughter relationships, about fishing, sumptuous cooking, courage, manipulation, desperation, angst and love. Every character is nuanced and there are stark consequences to naïveté. The book is full of raw emotion and exquisitely descriptive imagery. There are no easy resolutions here, and while I described it as dark (as war is) it is still permeated with complex love.
While I was tempted to give this book four stars for not really being a "feel good" novel, it is so excellent anyway that I must give it five. This book of fabulous food and concealed tragedy is very worth reading. Life is complicated after all and in the end, a final acknowledgement of the truth is required.