Deviled Eggs (Easy and Delicious Recipe)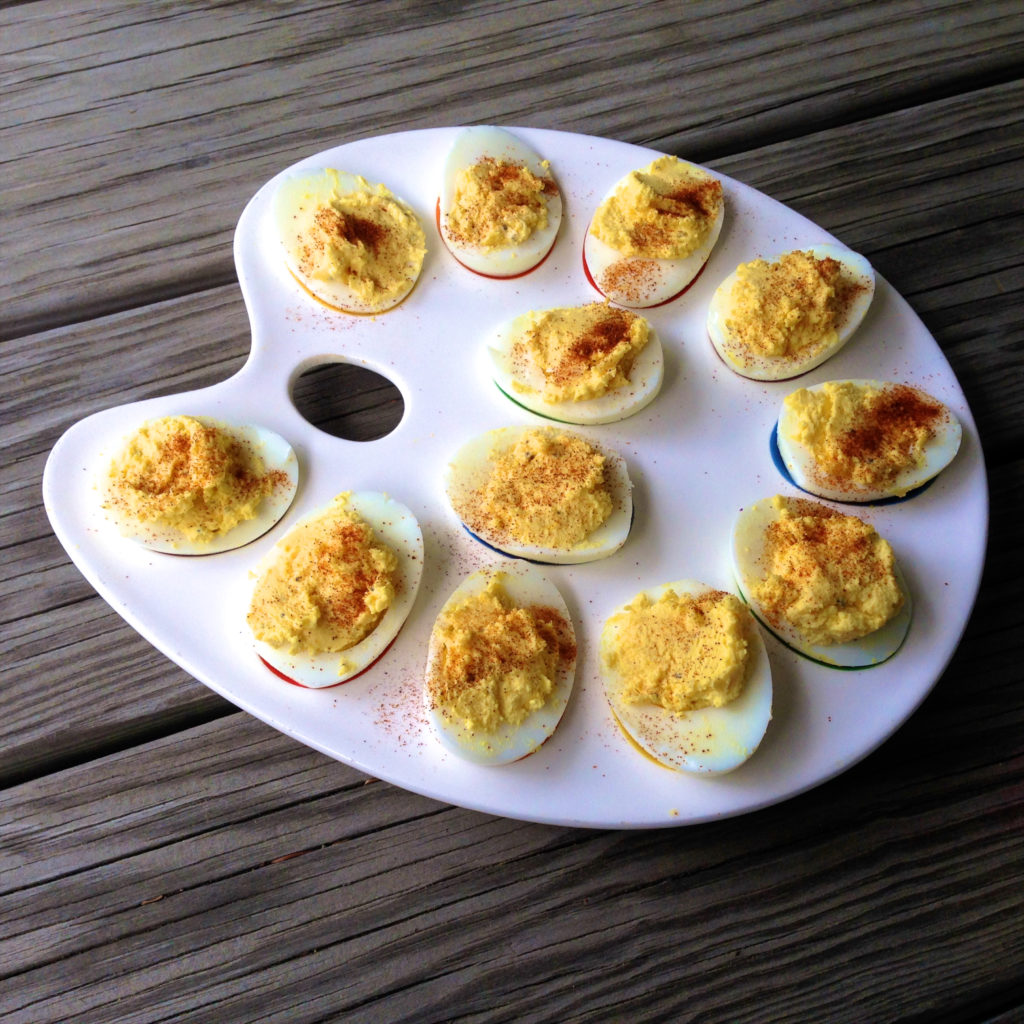 Deviled eggs seem universally enjoyed and I like to take them to events, partly because I love my mom's artist palette deviled egg plate, and partly because I alway appreciate some protein present that I can eat to balance off all the other goodies. People are always glad to see you arrive with them and they are the first things on a groaning table to be gobbled up.
Deviled eggs have a reputation for being tedious or hard to make, but they don't have to be. Here are a couple tips to make egg peeling not such a chore:
First, use the LEAST fresh eggs in your refrigerator; this is a great way to use those up. The older the egg, the easier it will be to peel. ( Save your freshest ones for your poached eggs, or other ways you crack them!)
Secondly, I recommend boiling them the night before and putting them with cold water in a lidded container in your refrigerator overnight. You'll find them much easier to peel that way, and if you make your transfer from the boiling water to the refrigerated cold water seamlessly, your yellow yolks will not be edged with that unsightly olive green either.
Also, some people sift the innards, or put it in a pastry bag (or a ziplock with a corner cut out) to squeeze it out all pristinely to fill the egg cups. You'll see that I do not. I stir it up well with a fork and slap it in with a frosting spatula. No one has ever complained that they are lumpy, sloppy, or ugly. They just ask for the recipe. Meanwhile, I have complimented many a deviled egg preparer on the beauty of their presentation, when they didn't taste good enough to warrant eating a second one.
Most deviled eggs for me have too much mayonnaise, too much yellow mustard, too many pickles, or too many fillers. Here is my basic recipe for straight forward– simple enough to make often– deviled eggs. Keep some extras in your refrigerator this summer to have for snacks or to take in a lidded container for something nourishing on the go.
Another hint why these are so good you asked for the recipe: I use all organic ingredients. It really does make a difference.
Simple Devil Egg Recipe
8 large eggs
3 Tablespoons melted butter
2 Tablespoons mayonaise
1 Tablespoon white wine vinegar
1 teaspoon dijon mustard
1/2 teaspoon salt
5 turns of the pepper grinder
1/4 teaspoon hot sauce
paprika and Maldon finishing salt for garnish (optional)
The night before, put the eggs in a pan, cover them with water, and boil them on high for 15 minutes. Remove them with a slotted spoon, immediately immersing them in cold water placed in a lidded container. Put the lidded container directly in the refrigerator, leaving it there overnight.
Peel the eggs and rinse them to remove any remaining bits of shells. Slice in half, placing the yolks in a small bowl. Add the butter, mayo, vinegar, dijon, salt, pepper, and hot sauce. Stir until well mixed with a fork. With a knife, spatula, or spoon, fill the egg whites with the yolk mixture. Garnish with paprika and/or more salt as desired.
Enjoy!