My One Woman Show Opens at the Essex Public Library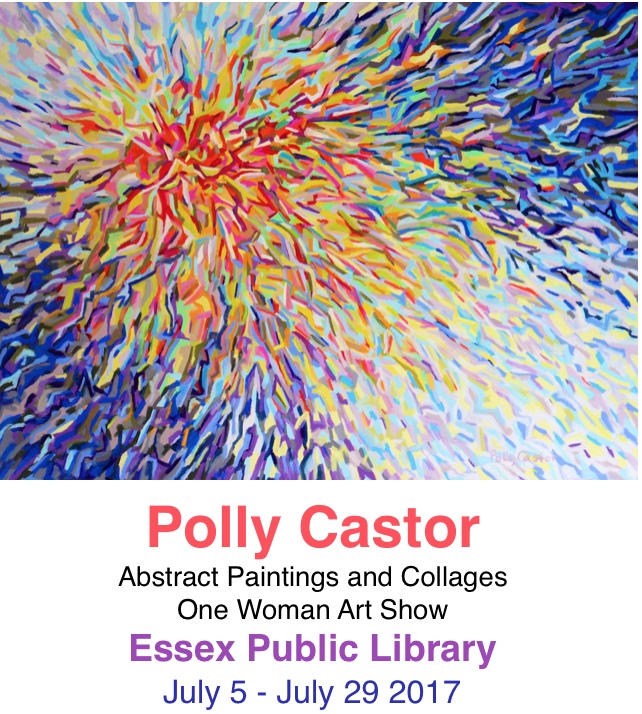 My one woman show has opened in the Essex, Connecticut Public Library this week. If you are in the area, check it out before the end of July! All the artwork is abstract, and includes both paintings and collages.
This show has a lot of the pieces in it that were in my May show in Bethel, and that made this show much easier to mount because most of the work was done. Photos from that previous show were better than these in this show so check out that blog too, but in this space it is easier to see the works up close and at eye level, which is great.
If you know somewhere else that I should show my abstract or representational work let me know. I'm still seeking brick and mortar gallery representation, instead of merely selling on the internet, but in the meantime shows in public venues are a blessing I am grateful for, even if the lighting is not always optimal.
I think my work shows especially well with itself, and it is a joy to see it together on the wall for public viewing. Now I am praying that as God governs the combination of ideas, there will be some sales!
While it may seem I have a long way to go before becoming a recognized artist, it is satisfying to have two one woman shows in one year. This was a wild goal not that long ago and it has quickly come to pass. It was not that hard after at all!  I encourage you to go for what you feel impelled to do. With trust and listening, faith and hard work, the way will open if you are inspired, genuine, and committed.
And a huge shout out goes to my husband, who framed all this work himself and helped hang this show. This would not have been possible without him. His support has been invaluable.
Anyway, check it out in person if possible, or here at least in this post. Let me know what you think in the comments below!