Hike to Howe's Falls (Photos)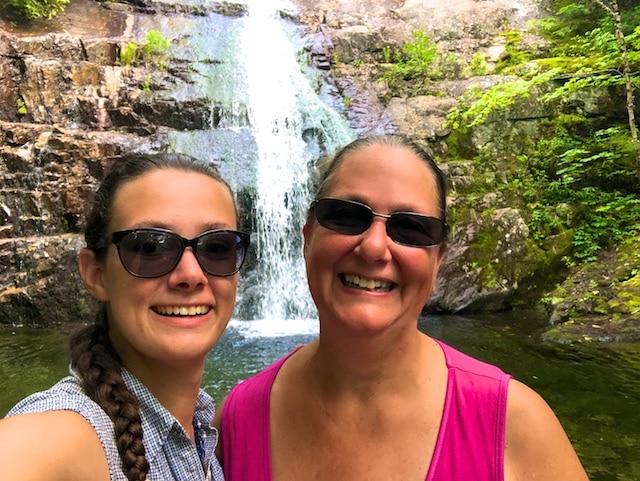 We enjoyed this hike together, and took all day doing it; it was supposedly only six miles, but my phone clocked 30,000 steps, which doesn't equate. The trail followed a stream up a valley between two peaks, as it made its way down to the lake. We hiked there straight out of our campsite and back, around the lake and then up to the falls. There was some elevation gain, with some clambering over rocks and roots on all fours, as well as wet spots to find precarious ways across.
In the spring this spot would be a raging torrent, as you could tell by the rounded rocks and deeply carved pools that we passed most of the way. If you'd like to see a small video of this fluid action, you can check out this mini clip on my Instagram. Those pools looked very inviting to swim in to a hot hiker, but the water is icy mountain run-off, heartrendingly cold.
I also want to mention that we passed probably 50 types of mushrooms; the sassy yellow ones, and the tiny polka dot bright orange ones, shown below, were my favorites.
Once we got all the way to the falls, there was only a fraction of the water of an earlier time of year, but it still felt beautiful, like right out of the movies. Our daughter sat at the top of the falls and sketched, while I planted myself at its feet and let it rush through my consciousness, cleansing it to the core.
When we got back to camp, sweaty and foot-tired, a swim in the beautiful, still lake never felt so resuscitating!