Vegan Split Pea Soup (recipe)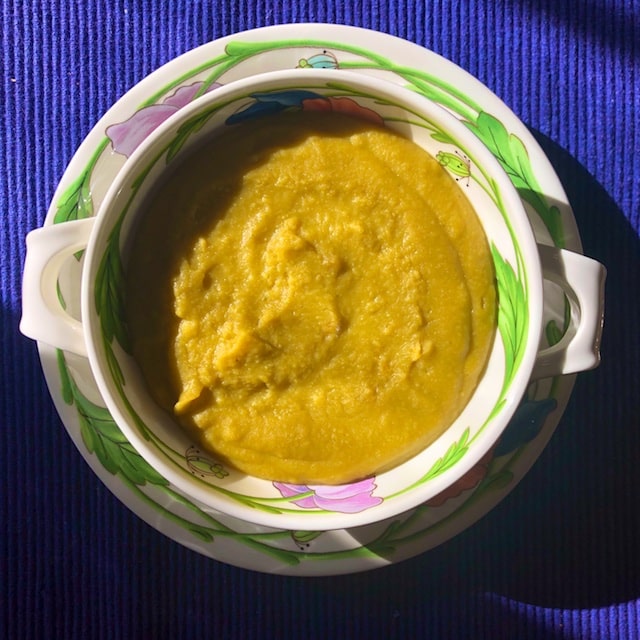 Most split pea soups rely on ham for their flavor, but this vegan one does not. The zucchini and rutabaga combination with the split pea, creates a hearty, thick, satisfying soup with plenty of comfort food flavor. With enough protein in it to stand alone as a vegan dish, we also serve it as a side dish, as you can see below.
My dad always felt soup should be hearty enough to stand your spoon up in, and this recipe qualifies. If you want a looser soup, add more broth, as we often do when we warm up leftovers of it.
Please note that you need to soak the green peas first! After that, it comes together quite easily.
Vegan Split Pea Soup Recipe
1.5 cups dried green split peas
2 Tablespoons olive oil
2 medium onions, chopped
2 cloves of garlic, minced
3/4 cup rutabaga, peeled and diced
2.5 cups zucchini, chopped
1/2 teaspoon ground turmeric
8 cups vegetable broth
2 teaspoons sea salt
1/4 freshly ground pepper
Place the split peas in a bowl, cover with water, and soak for several hours or overnight at room temperature. Drain and rinse the peas in cold water.
In a large stock pot over medium high heat, warm the olive oil and add the onion, and cook for a couple minutes. Add the garlic and rutabaga and cook, stirring until it begins to soften, about 2 minutes. Add the zucchini and cook for a minute before adding the split peas, turmeric, and broth. Mix well, and raise the heat to high, bringing it to a boil. Then reduce the heat to medium-low and simmer for 45- 60 minutes, stirring occasionally. Add 2 teaspoons of salt and 1/4 teaspoon of freshly ground pepper.
Ladle the soup in batches into a blender and puree. Serve immediately or reheat later and serve.