My New Solo Show Opened Yesterday! (Photos)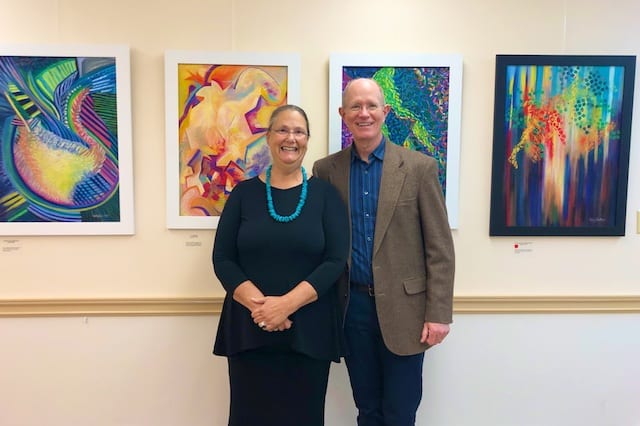 My new solo show opened yesterday, and it is just the beginning! I'll be there every Sunday in November from 2:00 – 4:00, so I hope you can make it. (Or let me know and we can make an appointment for a private showing at your convenience this month.)
The reception yesterday was well attended, and I really appreciate everyone who was able to come. There are two floors bursting with 77 of my paintings done during the pandemic. You can see them at The Meetinghouse, 602 Ridgebury Rd, Ridgefield, CT.
The feedback I got described the show as "prolific," "inspiring," "contemplative," "nature loving," "courageous," "inventive," "open hearted," "sincere," "generous," "profound," "honest," "creative," and "moving."
Most of the paintings (as you blog readers know) are about ideas instead of things, and included with each one is a bit of the thinking behind them.
We sold two versions of 2022 calendars with art done during 2021, as well as boxes of cards sporting a selection of paintings. We served Apricot Squares, Texas sheet cake, Vegan/Gluten-free Breakfast Cookies, grapes, cheese and crackers, and Pellegrino.
I'm grateful to all who made this possible!
If you haven't seen the show yet, I hope you come some Sunday afternoon in November!
(And when we were leaving the show, we were blessed with and amazing sunset, and then we celebrated afterwards with a large amount of guacamole, both of which you can see below as well!)