Ginger Kombucha Green Smoothie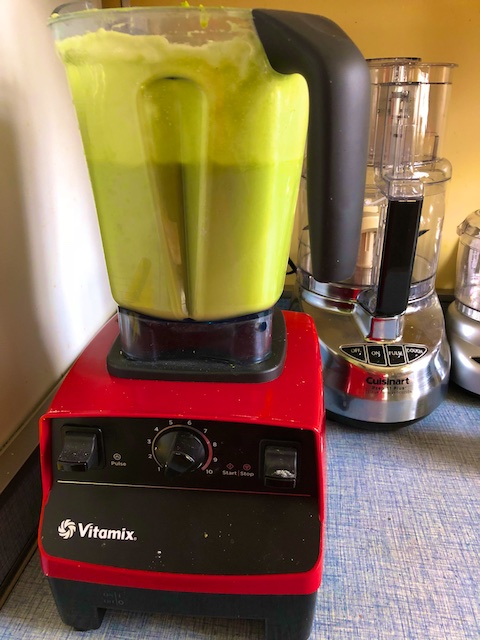 I had a previous green smoothie on my blog, but this now is my updated version.
The former one had sweetener in the egg white protein; this new one has egg white protein from Trader Joe's that has only one ingredient: egg whites. I prefer adding in some frozen pineapple for the little bit of sweetening that is required. But the addition of the ginger kombucha is ground breaking! Easy, great ginger flavor, complete with probiotics that we were no longer getting since we stopped eating kefir.
This is a quick protein boost complete with greens that I think is a great way to start the day.
We make super green "hockey pucks" buy pulverizing a huge bag of power green mix we get from Costco (baby kale, spinach, and chard) with a bit of water in a food processor, and then put them in a silicone muffin pan in the freezer. Once frozen, we transfer them to a ziploc, and put them back in the freezer. If you'd rather put fresh greens in your smoothie and skip this step, add some ice cubes too, to make it cold enough.
So for two large smoothies put the following in your blender or Vitamix:
two "hockey pucks" of power greens
one large handful of frozen pineapple
1/2 an english cucumber, roughly chopped
cover with ginger kombucha (about 3/4 of a bottle)
1/3 cup egg white protein
Blend until very smooth and enjoy.