Cinnamon Poached Pears (Recipe)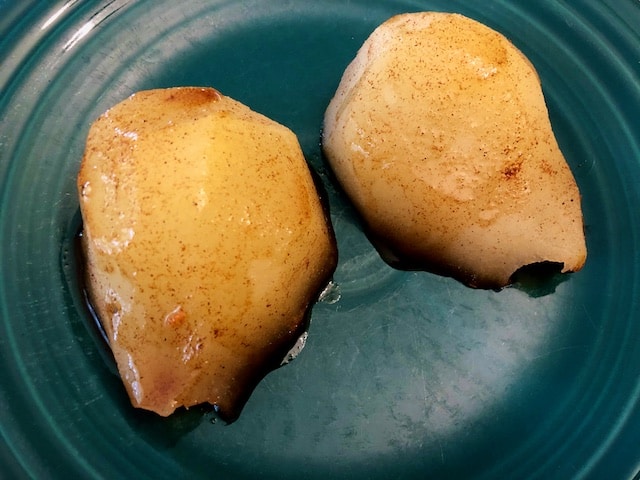 Before losing our power last week, these pears were a coup. I had a tray of pears from Costco that had sat around on the counter for two weeks without softening. By now, I thought, they must be as ripe as they were going to get, but they still were just plain hard. I'd heard of poaching pears in either liquor or some super sugary way that I'm not interested in.
So I tried this instead, which is much more my style in terms of ingredients. When we tasted them, we both literally groaned at how good they were. My sister can testify; she was on the phone at the time, and heard it. After hearing that, she wanted the recipe, so even though it is simple and easy to do, I thought I'd share the revelation with all of you.
Cinnamon Poached Pear Recipe
1 cup unfiltered apple juice (ours came from Trader Joe's)
1 teaspoon ground cinnamon
1/4 teaspoon kosher salt
four ripe but firm Bartlett pears, peeled, cored, and halved
Combine 1/4 cup water, the apple juice, cinnamon and salt in a bowl and stir well, incorporating the cinnamon.
Arrange the pears cut side down in a single layer in a large skillet or wide pot that has a lid. Pour the apple juice mixture over the pears.
Bring the liquid to boil over high heat and then reduce the heat to medium; cover it and let it cook untouched for 15 minutes.
Now reduce the heat to medium low, uncover, and simmer to reduce and thicken the sauce, about 10 minutes more.
Serve the pears warm with the liquid spooned over the top. (Cold leftovers are good too- try putting them in salads.)
Enjoy!