Update on the 2017 Reading Challenge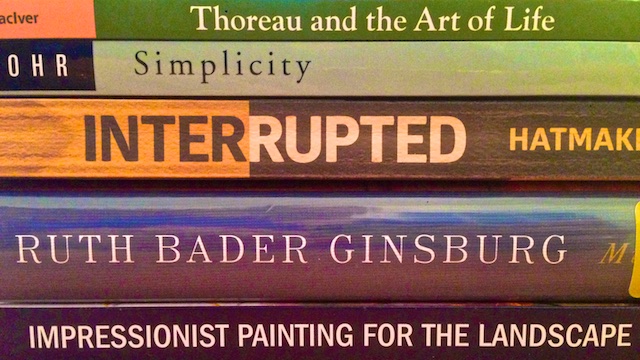 At the first of each year I start a Reading Challenge with many of you blog readers. How are you doing on it? I'm in pretty good shape so far with 27 of the 52 categories covered.
You can see below in red the books I've completed so far this year (many of which I have reviewed on this blog), and in purple are the ones I am in the process of reading. In a few categories, there are multiple titles already.
If you have a great recommendation for me to read on one of my empty categories, please let me know in the comments!
52 Week Reading Challenge for 2017
An easy book That Summer, Paris for One
A difficult book My Own Words
A short book When the Emperor was Divine
A long book The Winthrop Woman
An educational book
A recreational book The Painter's Daughter
A cheerful book The Rosie Effect
A helpful book The Untethered Soul
A beautiful book Thoreau and the Art of Life
A lighthearted book Sunday Sketching
An important book
An interesting book Cloud Atlas
An old book
A memoir Sweet Life in Paris
A mystery Murder at the Brightwell
A saga Pachinko
An art book The Art Spirit
A poetry book
A cookbook A Modern Way to Cook, Modern Way to Eat, The Forest Feast, Deep Run Roots
A spiritual book Miscellaneous Writings
A beach read Ever After
A coffee table book Women of Abstract Expressionism
An explanatory book Learning Linocut
An optimistic book
A book that makes you better Impressionist Painting for the Landscape
A book of historical fiction set in America The Underground Railroad
A book of historical fiction not set in America Vanessa and Her Sister
A book about making a difference Unbowed
A book about nature The Invention of Nature
A book about falling in love Pearl in the Sand
A book about food, farming, or the environment
A book about something you know nothing about
A book on a subject you know a lot about Acrylic Color Explorations, Collage Techniques
A novel printed in 2017 Eleanor Oliphant is Completely Fine, Commonwealth
A non-fiction book printed in 2017 Pantsuit Nation
A book printed in 2016 In the Company of Women
A book from the public library
A book from an independent bookstore A Piece of the World
A book of fiction you own but have never read
A book of non-fiction you own but have never read
A book by an author you've read before The Summer Before the War
A book by an author you have never read before My Grandmother Told Me to Tell You She's Sorry
A book recommended to you by a friend A Man Called Ove
A book set in a third world culture Little Princes
A book set somewhere you have been News of the World
A book where Christianity or Judaism plays a major part: Interrupted, The Great Spiritual Migration
A book where Buddhism or Hinduism plays a major part The Delight in Being Ordinary
A book where Islam plays a major part
A book where poverty plays a major part Hillbilly Elegy
A book where affluence plays a major part Our Little Racket, Playing the Game
A book about redemption, freedom, or transformation: Simplicity
A book you are so glad you read: The Robe