Recipe: Toasted Muesli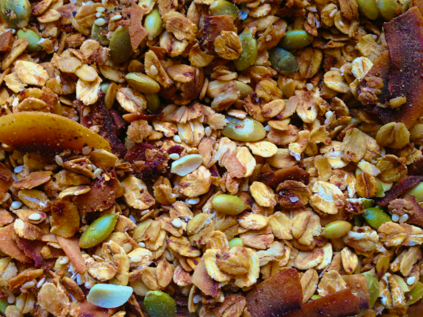 This toasted muesli is easy to make and is good the way most people would eat it, with greek yogurt and some fruit. But I've been eating my morning poached egg on it lately instead of toast, with a little pat of grass-fed Irish butter to make it especially yummy. Or try it with some strawberry Kiefer… Sometimes I add hemp hearts as well…
Toasted Muesli recipe
3 cups old-fashioned rolled oats
1/2 cup pepitas (or shelled pumpkins seeds)
1/2 cup large unsweetened dried coconut flakes
2 tablespoons sesame seeds
2 Tbsp extra virgin olive oil
2 Tbsp pure maple syrup
1/4 teaspoon coarse salt
Preheat oven to 325˚F.
Combine all ingredients (unless either your pepitas or your sesame seeds are already toasted, in which case leave them out and add them later.) Mix well.
 
Put on a rimmed cookie sheet, spreading in an even layer. Bake, stirring occasionally, until lightly golden, about 20 minutes. Let cool completely, and store in an airtight container at room temperature.
 
Makes eight 1/2 cup gluten-free servings.